Summer of Becoming the Healthiest & Happiest You! (Part 1)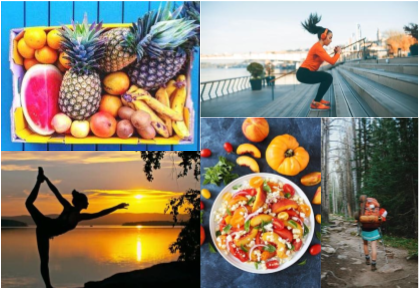 Throughout this summer, this blog Summer of Becoming the Healthiest & Happiest you! will continue till the beginning of September. This blog series about how you can be the healthiest version of yourself. It is about learning how to change the way you eat, move, and feel by the end of the summer. Being healthy is different for everyone and picking up new, healthier habits is what this series is all about. At Rec Sports, we want you to be healthy and confident in yourself and have a great summer of health and fitness! Through these 5 blogs throughout the summer, I hope you pick up some tips along the way! Remember: your health is yours so take actions that make you feel healthy and confident in your fitness.
In this first part of the series, we will investigate setting your goals for the summer and I will provide some baseline questions to get you started! Each blog of the series will contain a different healthy meal idea that you can make on your own, no equipment exercises that you can do outside or inside, and some things to keep you busy. If you are college student like me, you know that the summers have less and less time for relaxation, friends, and family because you are likely working full time. Going through the motion of working everyday especially in the summer can be tough on your mental health where you don't find times during the day to do something that you enjoy. I will also give some helpful ideas to spark your imagination on how to make your summer worth it and improve your mental health this summer!
Goal Setting
Make these goals personal to you and where you want to see yourself in the future. One of my summer goals is to get on a more consistent sleep schedule this summer because sleep is highly important and will help me start next fall off on the right foot. Think of how you want to see yourself at the end of this summer and then plan out how you're going to achieve it with these questions:
How will I make my happiness a focus and priority this summer?
How will I make my health an important aspect of my daily routine?
How much do I want to change over these coming months?
How do I picture myself in September of 2021?
What are things I want to change to make myself healthier?
No Equipment Exercises

(make them your own and what you feel comfortable doing!)
Hobbies to Try and Prevent Boredom
Try starting a garden for vegetables or flowers
Start or continue to journal
Explore or go for a hike
Try meditation
Top 3 Healthy SALSAS of the Week
Fresh Pico De Gallo (use the fresh tomatoes from your new garden!
Fruit salsa

There are so many different types of fruit salsas you can make, but this one is for island fruit salsa!
I hope you follow along throughout the summer and use some of these tips to make you healthier and enjoy your summer to the fullest!
Strive for progress not perfection!
Kayla Withrow
---