Wendy's
November 20, 2020
4:51 pm
Food
The "Fresh, never frozen" restaurant is known for its meats and use of social media. Let's see how their food actually tastes.
Let's see what was included: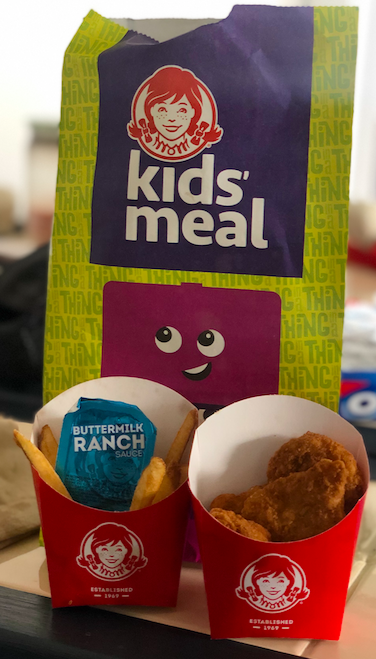 4 piece chicken nuggets (they gave me a bonus nugget too)
Choice of fries or apple bites
Choice of milk, bottled water, or Honest Kids juice
Choice of dipping sauce
Toy (not included in this review, but is offered to children under 3)
Score: 9/10
Price
The price of this meal was $3.99 before tax and came out to be about $4.15 after. I think this is a standard and cheap price point. Considering you get four nuggets, a side and drink, this is a very good price for what you get.
Score: 8/10
Size portion
These nuggets are very similar to the McDonald's, with the size and taste. They are about the size of a kid's palm, perfect for a kid's meal. I think that the other restaurants that give two large tenders versus the four nuggets resemble each other through the amount of food you get, plus they are around the same price points. Therefore, as the other reviews, this meal would fill up a smaller/kid's stomach.
Score: 9/10
Dipping Sauces
The choice of dipping sauces included:
Buttermilk ranch
Creamy sriracha
BBQ
Sweet & Sour
Honey Mustard
The ranch was very bland. You could see the seasoning flakes in the ranch, but I was let down. Usually buttermilk ranches are the best, but this one I could've gone without. The choices were good, they are more extensive than just the usual ranch and BBQ.
Score: 6/10
Taste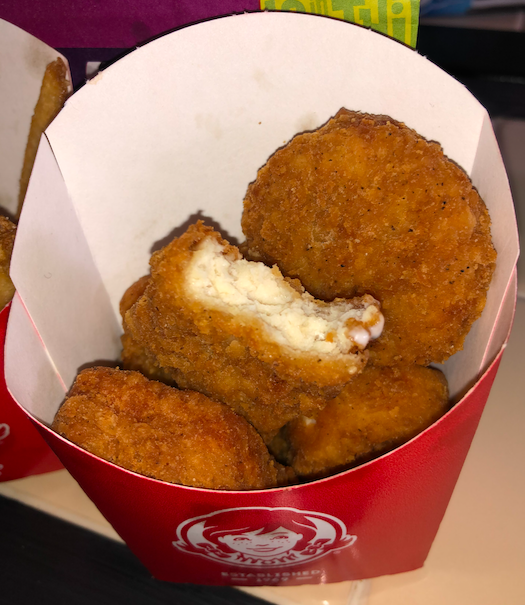 Like what was said above, these nuggets are very similar to McDonald's through the taste as well as the size and breading. The nuggets had a crisp breading outside, with a mediocre inside. I would be disappointed if these were labeled tenders, as tenders have stringy chicken meat on the inside and these nuggets were more spongy than anything. If you like McDonald's nuggets, you would like these as well. The ranch was OK, as the ranch was buttermilk but didn't have much flavor that usual buttermilk ranch has. The fries resemble McDonald's as well, but a bit more soggier/raw.
Score: 5/10
Overall
Score: 7.4
Stick to Wendy's Burgers. Avoid the nuggets.