Brain Freeze
October 30, 2020
5:10 pm
Food
The 50's diner style restaurant is located in downtown Whitewater, past the train tracks. I personally love their shakes, but let's see their food.
What was included: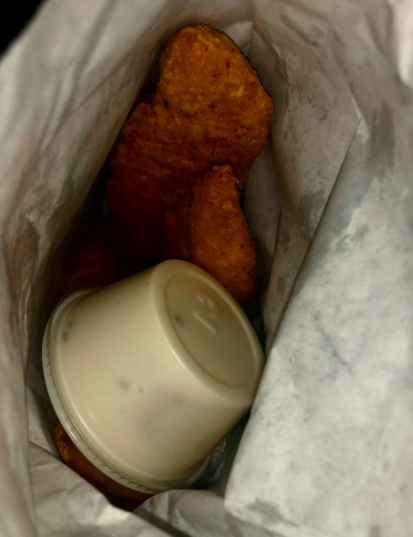 4 chicken tenders
choice of dipping sauce
Score: 6/10
Price
The total for the chicken tenders came out to $4.95 plus tax. Honestly, that's not that the best here in Whitewater. There are 4 tenders that come with, along with the dipping sauces, but no fries or drink. It's not much of a meal, you're just paying for the tenders and that's it.
Score: 6/10
Size Portion
There are 4 chicken tenders that came in the bag, they were more skinnier and a bit thinner than the Culver's chicken tenders (see Culver's review). However, you do get four of them. So in a way, you do get a lot and will fill you up, but the tenders themselves are not the average size. Side note: I had more like 3 since two of the tenders were shriveled up and half the size of the other ones.
Score: 7/10
Dipping Sauce
The choices of dipping sauces included:
Ranch
Southwest Ranch
Siracha
BBQ
Honey Mustard
Sweet & Sour
These choices are pretty extensive, I like that there is more than the regular BBQ and ranch options. However, the ranch tasted more mayo-y than buttermilk ranch would taste (I despise mayo). If you like mayo and ranch, this would be the perfect combination of the two; but a despiser of mayo like me, I would shy away from it.
Score: 6/10
Taste
The tenders themselves were juicy and the buttermilk batter was pleasant and stayed on the tenders. There's nothing worse than the batter falling off when dipping it in dressing. It was a perfect amount of crunchy on the outside, and juicy on the outside. After eating the tenders, I did feel sick for the night. The ranch was probably my least favorite, having the mayo-y taste put me off. But like I said, if you like mayo and ranch, this would be pretty good to you.
Score: 6/10
Overall
Score: 6.2/10