Island Bar and Grill
October 15, 2020
7:25 pm
Food
Island Bar and Grill is a local restaurant in Fort Atkinson on the lake. They carry American and bar type foods, with live music outside; the perfect night out for a Wisconsinite.
Let's see what was included: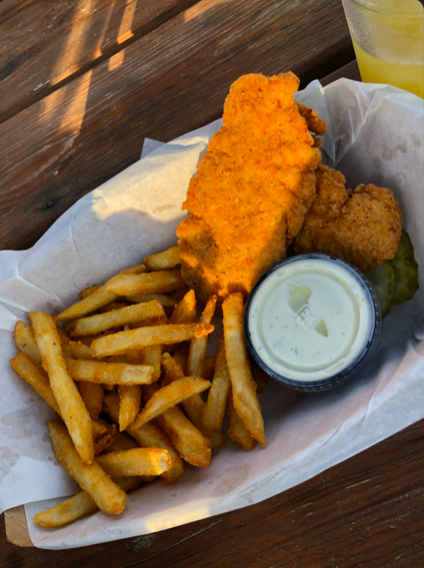 Fries
2 Chicken tenders
2 Pickles
Choice of dipping sauce
Score: 8/10
Size portions
The tenders were a bit big, but you get quite a bit for what you pay for. A good amount of fries and 2 good-sized chicken tenders is what you pay for, along with a cup of ranch. I'd say, for an average kid that they could eat this with no problem, maybe with some fries left.
Score: 9/10
Price
The total for the tenders was $6 for the meal, but with tipping (if you're old enough to pay yourself) and drinks it would be a little over $10. That's a pretty average amount if you go to actual restaurants instead of fast food. You are paying for the service too, rather than just the food itself. I still think $6 for a couple of tenders is a little high with just the basics.
Score: 7/10
Dipping Sauce
The choices that were included were:
The choices are a little limited, but the ranch was amazing. It was a type of garlicky, lighter/thinner and overall tasty ranch. This is one of those ranches that you dip everything in, like your fries along with your tenders. If there were more options for the dipping sauce, it would easily receive a 10/10.
Score: 7/10
Taste
The chicken tenders were made up of white chicken breast meat with a light, crispy breading. It was the perfect amount of breading to chicken ratio, as well as the level of moistness. I've had some very dry chicken, and this one did not make that list. The breading was light and not too hard, but stuck to the chicken enough to dip into the ranch. The ranch, as stated earlier, was amazing. It was that classic pub ranch, with a light garlicky taste. The fries were crunchy on the outside but soft in the middle; the perfect balance. The pickles tasted like any ordinary pickles, nothing to rave about.
Score: 9/10
Overall
Score: 8