Arby's
October 22, 2020
9:57 pm
Food
I visited Arby's for a good-old-fashioned chicken tender meal. On the kids menu of course.
Take a look at what was included: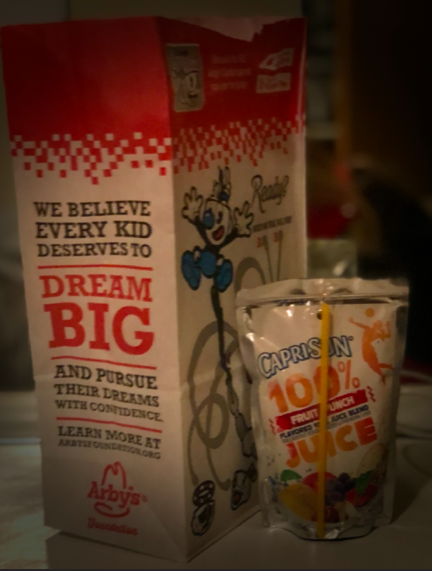 2 chicken tenders
choice of dipping sauce
curly fries
CapriSun juice pouch
collectable paper craft boss toy
launcher token
The options for the drink were CapriSun, Low-Fat milk, and Low-Fat chocolate milk. You also had a choice for the side: curly fries or TreeTop Applesauce.
Score: 10/10
Price
The price came out to be 3.99 before tax and 4.21 after tax. For a toy, a collectable assembly toy and the launcher token, two chicken tenders, fries, drink and dipping sauce? That is one great deal. Although the meal is a bit small, it would be perfect for a kid, just for ~$4.
Score: 9/10
Portion Size
This meal comes with two chicken tenders, about medium sized. I have a pretty average to small stomach, and this whole meal filled me up for a couple hours. The tenders themselves were about the size of a palm, about 2 inches wide, making it a pretty average sized tender– great for kids. It also included a handful of fries and juice pouch (which was gone in 1 minute). With the fries and juice, this would definitely satisfy someone with a smaller stomach.
Score: 8/10
Dipping Sauce
The choices of dipping sauces were available:
Bronco Berry
Honey Dijon Mustard
Buffalo
Tangy BBQ
Ranch
Their choices were actually pretty good. I like that they have more than just the select few of honey mustard, ranch, and BBQ. I ordered the ranch (as I always do), and it is super creamy and thick. You can see the specks of seasoning in the ranch as well. It has a slight garlicky taste, along with onion– ever so slightly. This ranch isn't the best I have ever had, but it is enjoyable.
Score: 9/10
Taste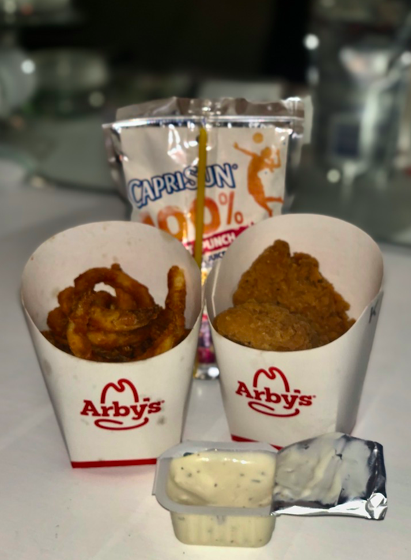 The curly fries were crispy, close to being overdone, but still have some soft inside. The chicken tenders had light breading and the chicken-to-breading ratio is good. The breading did not disrupt the chicken, they worked in harmony. The chicken was super juicy and flavorful, also not hot enough to burn your mouth on. The ranch was thicker, creamier, garlicky ranch than most. And you could see the seasonings specks inside the ranch. I wouldn't say it was gourmet, but it is good to have with some good-old-fashioned chicken tenders.
Score: 8/10
Overall
Score: 8.8