Written by: Carol Cartwright of the Whitewater Historical Society
Edited by: Bailey Gaffney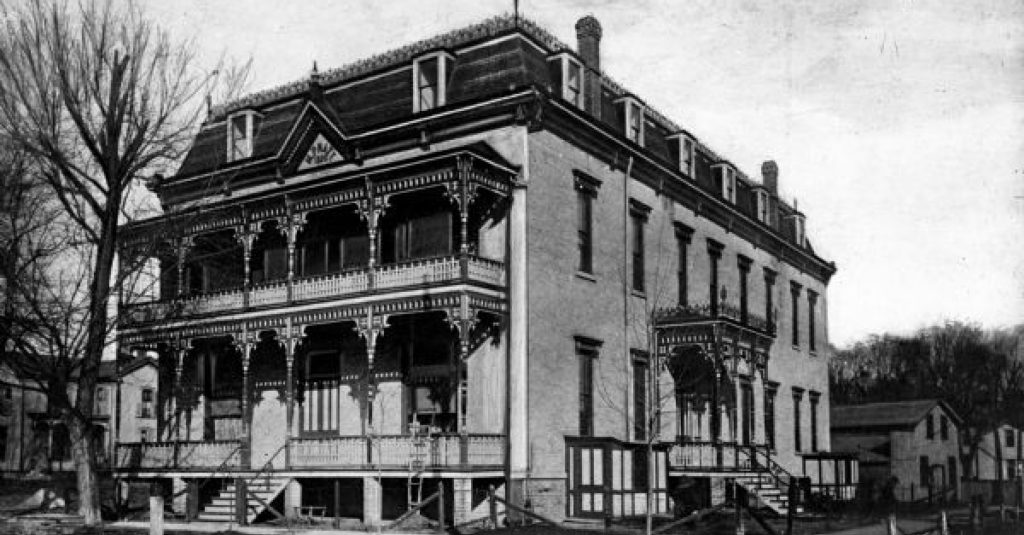 Morris Pratt was one of the many Americans who immigrated to Wisconsin from New York State in the 1840s. He came with his family as a young man to the Town of Lima, just west of Whitewater and grew up on a farm. His family were successful farmers and he and his brother bought other farms and made them successful, as well.
In the 1860s, Pratt became influenced by a Spiritualist medium named Mary Hayes, who lived in Jefferson County. Mary Hayes claimed to have visions that allowed her to speak to the dead and she soon set up a Spiritualist "circle" in her home where she held seances. Hayes became quite popular and her Spiritualist "circle" was very influential in south-central Wisconsin.
Morris Pratt was a firm believer in the powers of Mary Hayes and became one of the most ardent Spiritualists in Wisconsin. At one of her seances, Hayes transferred some financial advice to Morris Pratt from one of her "spirits." That advice was to invest in some iron mines in northern Wisconsin that just happened to be owned by her sons. What could have seemed to be a financial "scam" turned out to be a windfall. Hayes' sons had found mines that held the richest veins of iron ore ever found in northern Wisconsin. Hayes, her sons, and Morris Pratt made a lot of money from their investments in these mines and Hayes moved to California where she established a well-known Spiritualist temple.
Morris Pratt said that since he had received this information during a Spiritualist séance, if the investments paid off, he would spend the money on a building for Spiritualism, and that is exactly what he did. In 1889, he opened the three-story Temple of Psychic Science, a home for Spiritualist practice, in Whitewater.
It is unclear why Pratt picked Whitewater, but the city had a large state normal school, and perhaps he saw the advantages of locating in what he perceived was an "educated" community. In any event, Pratt's Temple of Psychic Science was, at first, seen as a major development for Whitewater. But after the grand opening, when Spiritualist speakers made derisive comments about mainstream religion, enthusiasm for the temple faded a bit.
Pratt headed up the Spiritualist temple until his death in 1902. At that time, his wish that the temple be converted to a school for Spiritualist training was executed. One of the most important Spiritualists in the U.S., Moses Hull, relocated to Whitewater to head up the school. The community, by now used to the Spiritualist institution, was excited that the building was now going to be attracting students, just like the normal school, and would be an economic boost for the city.
The Morris Pratt Institute, as it was known after 1902, was successful through the 1920s. But, by the 1930s, Spiritualism was fading as a belief and practice in the U.S. and the Great Economic Depression of the 1930s resulted in low enrollments at the institute. In the late 1930s, the Morris Pratt Institute left Whitewater for a location near Milwaukee where they largely scaled back their activities.
The Morris Pratt building was used for a time as student housing for what was now the Whitewater State Teacher's College (UW-Whitewater), and was eventually razed for a building housing an automated land-line telephone exchange in 1962. Interestingly, a building constructed for communication with the dead was replaced with a building that improved communication for the living.
Today, the grave of Morris Pratt, can be found in Hillside Cemetery. The Morris Pratt Institute is known to be the start of the Whitewater hauntings because this was a school for Spiritualism.
Many people have reported drastic temperature decreases within the barbed-wire fence of Calvary Cemetery and have seen strange shadows moving about in the middle of the night.