Summer is the time to get outside, try new things, go on adventures and ultimately, enjoy life. As someone who is a huge advocate for traveling and exploring the world, I have created three different food trails for you to try, all starting and ending right here in Whitewater!
Some of you may be asking what a food trail is, so let me explain. A food trail is a travel route set up to stop at the top food destinations based on the category chosen.
Below are the suggested stops along these food trails, along with the city they are in and a photo of the mapped-out trail with the estimated drive time. If you are not currently residing in Whitewater, no problem! You can always start one of these food trails from where you are, or you can even make your own!
Wisconsin Food Trails you don't want to miss out on, all starting from UW-W and making a full loop back to campus:
Wisconsin Ice Cream Trail
Being the leading state in dairy production, it should be no surprise that Wisconsin has developed a large amount of ice cream and custard shops. And, let's be honest here, who doesn't love a nice scoop of ice cream on a hot summer day?! This Wisconsin ice cream trail brings you to some of the best old school ice cream and custard shops that Wisconsin has to offer!
Gus's Drive-in: East Troy, WI
Purple Door Ice Cream: Milwaukee, WI
Leon's Frozen Custard: Milwaukee, WI
Gilles Frozen Custard: Milwaukee, WI
Kopp's Frozen Custard: Greenfield, WI
Kiltie Drive-in: Oconomowoc, WI
Wholly Cow Frozen Custard: Delafield, WI
LeDuc's Frozen Custard: Wales, WI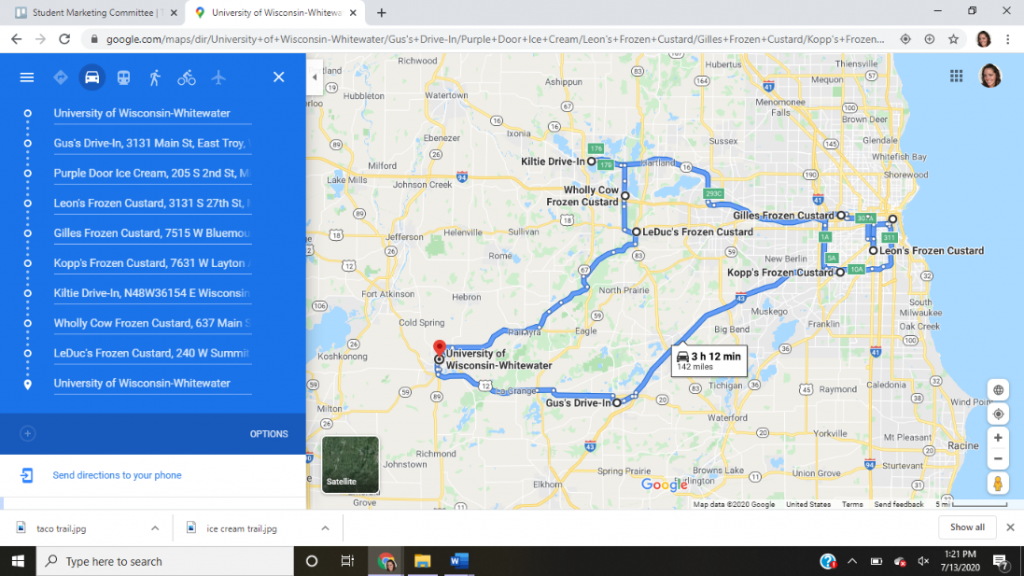 For all those taco lovers out there, make sure to bring your appetite when traveling down this Wisconsin taco trail! This trail starts out at the famous Cozumel's Mexican Restaurant right here in Whitewater and continues to some of the best taco places in both Milwaukee and Madison!
Cozumel's Mexican Restaurant: Whitewater, WI
BelAir Cantina: Brookfield, WI
Su Casa Grande: Menomonee Falls, WI
Mazatlan Restaurant: Delafield, WI
Canteen: Madison, WI
Taqueria Guadalajara: Madison, WI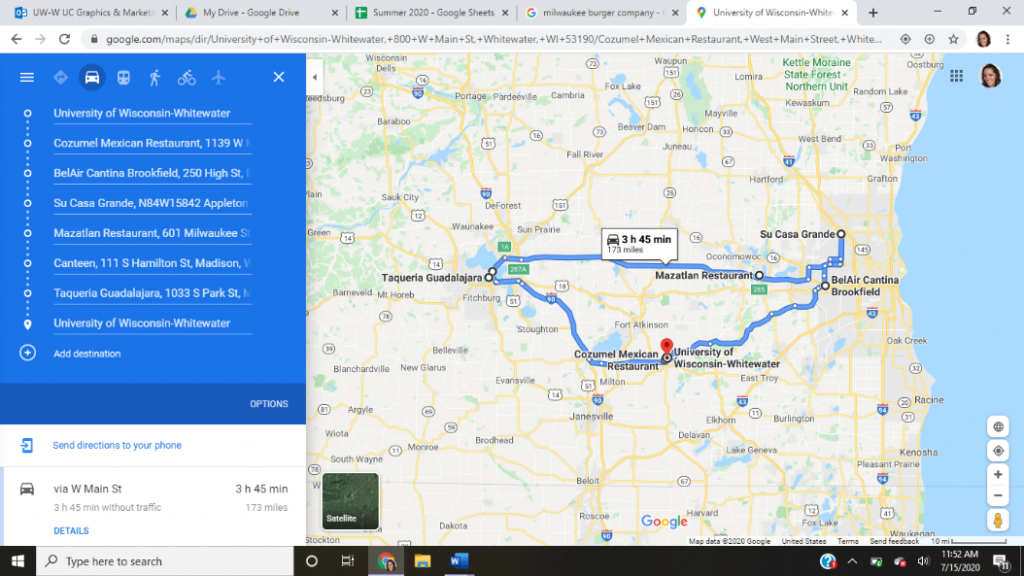 Wisconsin Cheese Curds Trail
Did you know that cheese making in Wisconsin dates all the way back to 1840, and today Wisconsin produces over two billion pounds of cheese a year? No wonder you can't say Wisconsin without mentioning cheese! This Wisconsin cheese curd trail visits some of the best cheese curds that you can find while in Wisconsin, while staying close to Whitewater. Although it is the longest option on this suggested list, trust me when I say that these cheese curds are worth it!
Craftsman Table Tap: Middleton, WI
Buck & Honey's: Sun Prairie, WI
Crafty Cow: Oconomowoc, WI
The Iron Horse Hotel: Milwaukee, WI
Wisconsin Cheese Mart: Milwaukee, WI
West Allis Cheese and Sausage Shoppe: West Allis, WI
Milwaukee Burger Company: Franklin, WI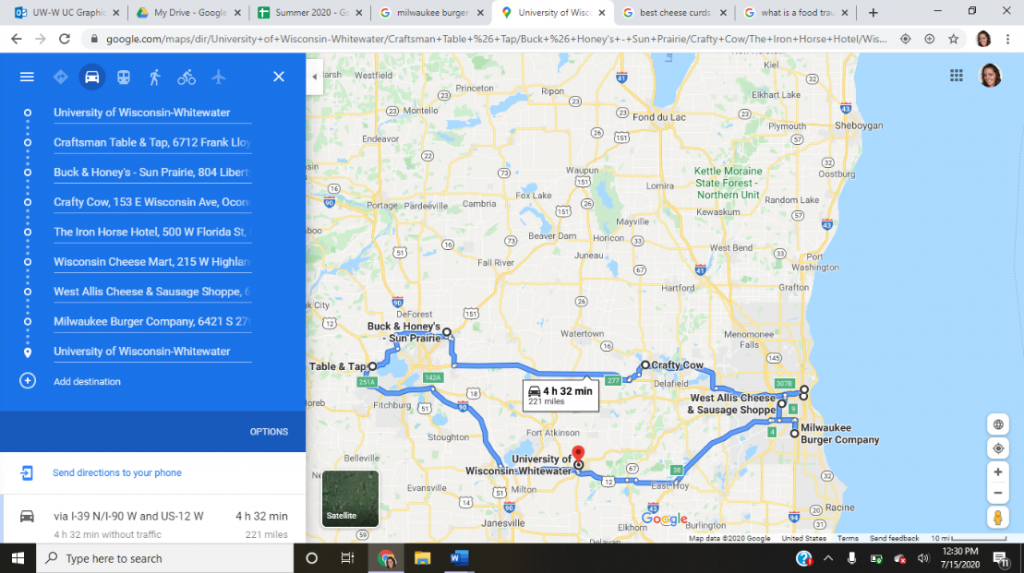 Remember that all food trails are different and that these places are just a small glimpse of the amazing ice cream, taco, and cheese curds stops that Wisconsin has to offer! I encourage you to make your own food trail highlighting your favorite foods or sweet treats, and to share it with friends as this summer slowly comes to an end. Happy eating!
Written by: Bailey Gaffney