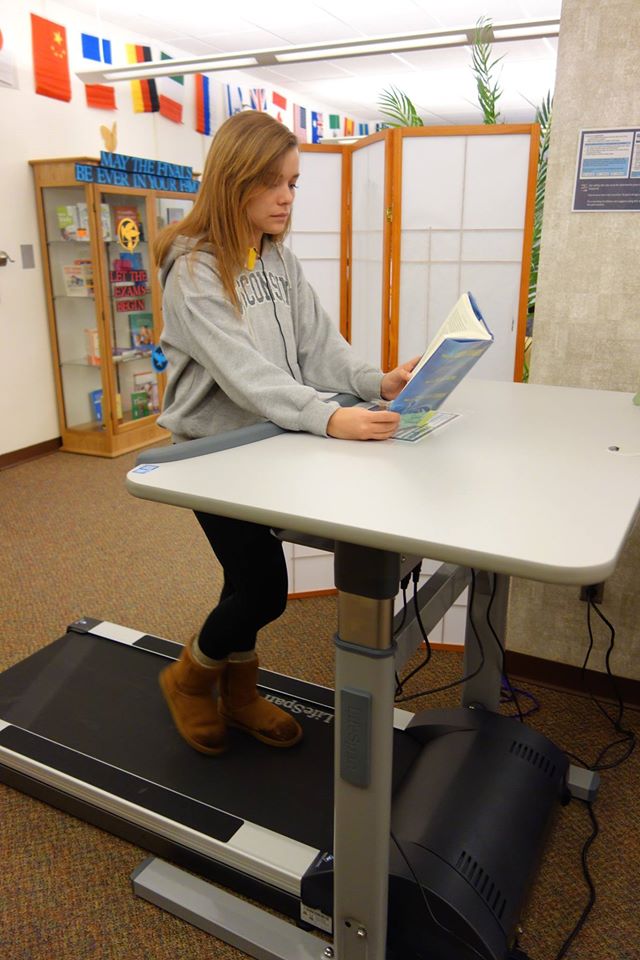 The Andersen Library is the perfect place to balance your physical and educational goals.
Did you know that the Andersen Library has a treadmill desk? You can actually plug in your laptop and start your paper while you are walking. How cool is that?!?
Sitting is tough on a person. We know that. That's why we also added standing desks and bike pedals to help beat the sedentary lifestyle.  Want to try one out? We keep them across from the reference desk in the computer alcove. Grab what you need, but just remember to put it back when you're done!
UW-W Health and Counseling Services provides some great information about the importance of staying physically active, tips to get started, and how to stay motivated. http://www.uww.edu/uhcs/wellness-information/az/exercise
Getting fit in public not your thing? You can also check out one of our many fitness dvds, or even borrow some CDs to dance to. Whatever it takes to keep you moving.  Check out our exercise DVDs, fitness video games, resources for children, and a wide variety of books on the topic of fitness and exercise.   Are you looking for specific types of exercise? Give Zumba, Yoga, Spinervals (cycling). Tai Chi, or Pilates a try!
This site is not meant to replace the advice of a health care or counseling professional. You should not rely on any information on this blog to replace consultations with qualified professionals regarding your own specific situation.