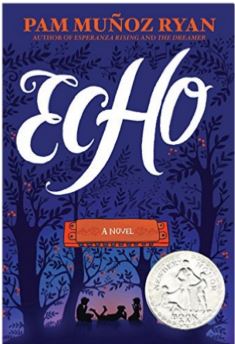 Echo:
a Novel
by Pam Muñoz Ryan
HD62.5 .B397 2015
Curriculum Collection, Fiction, 2nd floor
Just as this grand tale sweeps across time and place, it spans the genres of historical fiction, fantasy, fairy tale, and multicultural literature. Ryan weaves together the stories of three children: 12-year-old Friedrich during Nazi occupied Germany, two brothers in an orphanage in Depression-era Pennsylvania, and fifth-grader Ivy Lopez in Southern California. Their stories revolve around a single Hohner Marine Band harmonica and are set by the opening tale of a lost boy, three sisters, and a witch's curse.
This Newbery Honor Book for 2016 will engage the 9-14 year-old crowd and beyond.
Andersen Library regularly adds Newbery and other award books to the Curriculum Collection. Search Research@UWW by award name, or visit the LibGuide for handy links to Award Books in the collection and tips for finding them.
TeachingBooks.Net provides video interviews with Ryan and other resources, especially useful for classroom teachers. Visit TeachingBooks.net through WI Badgerlink to browse author resources such as the video collection below.