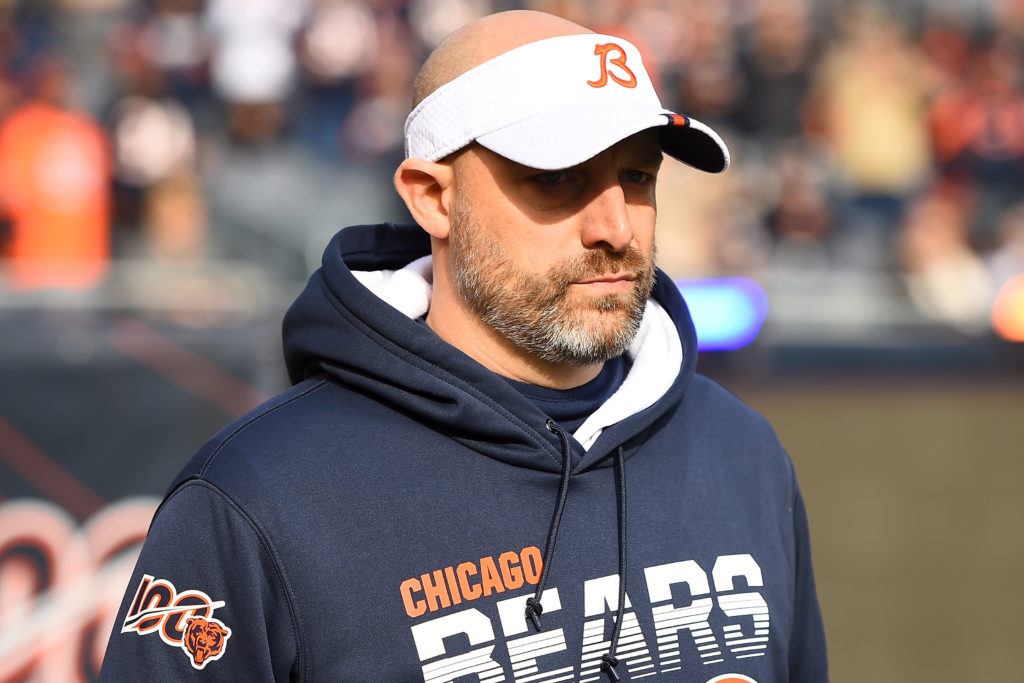 By MIKE BLAKE
Chicago Sports News Now
October 13, 2021, at 8:00 PM
We have seen Matt Nagy go from being beloved by most and atop the next great coaches list in the NFL as the 2018 NFL Coach of the Year to now having most fans hypothetically outside Halas Hall with pitchforks screaming for him to be fired.
There are 3 signs that Matt Nagy will be fired after this season
1. Matt Nagy was already on the hot seat after a second Chicago Bears 8-8 season.
If we rewind back to the end of the 2020 season, the Chicago Bears backed their way into the playoffs with a putrid 8-8 season. The team embarrassed themselves versus the Saints in the Wild Card Round and lost 21-9 to be eliminated from the playoffs. At that point, I did not know many fans who would stick up for Matt Nagy as the Bears head coach. Bears fans knew that Matt Nagy could not return in 2021. In fact, most expected not only Nagy to be fired, but also general manager Ryan Pace to be fired. The outcome of that offseason left most of us filled with many emotions. Emotions ranging from hatred to anger, to heartbreak, to frustration, to even feeling stuck. That's right, it's easy to just feel stuck knowing that this is now what we expect this franchise to do. This is a lot to overcome and Nagy has not been off to a great start despite a 3-2 record on the year.

2. Matt Nagy's inability to create an effective Chicago Bears offense.
Last season, when Matt Nagy gave up play-calling in Week 10, the Bears' offense saw an explosion of efficiency. Bill Lazor was the play-caller heading into the matchup versus the Vikings on November 16, 2020. Many want to give credit to weaker opponents, but the Bears went from averaging 19.8 points per game under Nagy's play-calling expertise to averaging 27.7 points per game with Lazor calling the plays. It is a little too early to tell from a points perspective, but in the first three games, the Bears averaged 13.3 points per game. After Matt Nagy gave up play-calling for a second time, the Bears averaged 22 points per game. It appears to me that Nagy is too stubborn to learn from his mistakes as he keeps making the same ones over and over again. I cannot be the only one who sees this.

3. Matt Nagy continues to mishandle the Chicago Bears QB position.
Over the last four years, he has mishandled the quarterback position over and over and over again. When he was brought in to coach the team in 2018, Mitch Trubisky had already established himself as the starter. That year was the golden year for everyone except Cody Parkey it seemed. After that season though, Nagy got in over his head. Nagy did a better job putting Trubisky in positions to succeed. However, in 2019, it seemed like he wanted to force his offense onto everyone, even if Trubisky does not have the skill set needed to operate it. Let's be honest, we just discussed how no quarterback skill set is able to operate Nagy's system.
Technically the title of this article is deceiving as Nagy will not be truly fired. He's on the last year of his deal. I just don't see how the Bears could bring him back in 2022 without a miracle.