Staying Mentally Healthy in a Pandemic!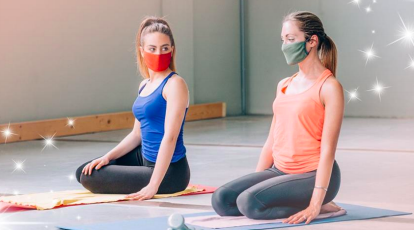 In today's world of living in a pandemic, not fully attending in person classes, or being able to socialize as we please, can be mentally draining. Our days are boring, and weekends do not feel like weekends and maybe we are just feeling lonely. I know for me there are some days where I do not leave my house because there is no in person class and I don't work, with that being said it is very important to get out for at least 30 minutes each day. This can be anything like going for a walk, going to the gym, or anything that can take your mind off of our crazy lives. Our Williams Center gym here on campus has many options for students and ways to get YOU
active! Below is a list of the resources the Williams Center has to offer:

• Kachel Fieldhouse
→ FREE for students! As the weather begins to get colder and snowier this can be a great resource to not only get out, but to be active for at least 30 minutes to help you stay focused!

• Swimming Pool and Diving Well
→ This is also a FREE resource available to all students! Sign up on IM leagues to come in to swim for a short while to relax your mind from all the craziness from your day!

• Outdoor Recreation Fields
→ Although we are entering the colder months of fall, the outdoor rec fields next to the Williams Center are still available for students to use at their leisure!
• Weight Room
→ The weight room is a paid membership for students but still an option to get out and take your mind off of school and the world to get some exercise!
• Group Fitness Classes
→ Group fitness also needs a membership but still a great opportunity to work out with others and to keep you active. Check out last week's blog for more information!
• Online Yoga → Warhawk fitness is here to provide for you! If you do not have a fitness
membership or not feeling in the mood to go to the gym, our YouTube channel has FREE yoga instruction courses lead by our group fitness team.
Not only is it beneficial for you to be active but also to take care of yourself! Not all students have fitness memberships for the Williams Center so there are other things you can do to stay active outside of the gym, but also to just take care of YOU! Here are things that are proven to help students stay mentally healthy during COVID-19:
• Keep a daily routine as best as possible
• Create a healthy habit
• Eat healthy
• Stay active
• Get lots of sleep
• Go outside and soak up some vitamin D

Taking the time away from school, work, or the pandemic we are living in to get out and enjoy some sunshine can benefit you more than you think. Take time to take care of YOU as you know yourself best!

Strive for progress not perfection!

Kayla Withrow
---
---