Group Power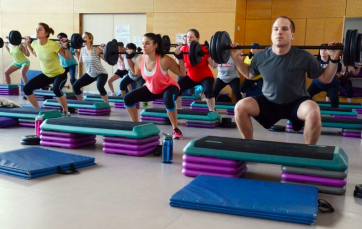 Getting into the habit of working out can be a difficult task. We talked about how to make the gym part of your daily routine in one of our latest blogs. You can find that HERE. What can be even more difficult is conquering the gym alone. One of the most important things about working out is feeling confident while doing so. Something that will make the gym seem less intimidating is working out as a group. Now you might be thinking that you don't have anyone to workout with. Well.. that's not true! Here at Whitewater we offer a variety of Group Fitness classes for you to take part in. These classes feature a trained fitness instructor that will not only workout with you and the class, but motivate you to the max! Below are a list of the group fitness classes we offer here at Whitewater.

UW-Whitewater Group Fitness Classes:
■ Insanity
■ Yoga
■ TRX
■ Total TRX
■ Core 360
■ P90X
■ Step
■ Triple Threat
■ PiYo
■ Group Strength
■ Below the Belt
■ Anything Goes
■ Barbell Strength
Not only are group fitness classes fun and motivating, but there are many benefits to working out with a group.

Benefits of Group Workouts:

Be Accountable
● As mentioned above and in our latest blog it can be hard to stay motivated and on track with your fitness journey. Joining group classes will help you stay accountable! Not only do you have to sign up for the classes, but you also have instructors and friends counting on you to come. Let's be realistic. If you sign up for the gym alone you can easily backout. A group atmosphere will introduce you to many new people that will hold
you accountable!

Workout Variation
● I know for me personally when I go to the gym I find myself doing the same thing over and over again. With group fitness new workouts are incorporated each week so you will not find yourself in a rut. Whether you are signing up for a variety of classes or just simply cycling every week the workout will be fun and fresh.

Reduce Injury
● It is hard to know your limits at the gym, especially as a beginner. Last year I tore a muscle in my leg and was out of the gym for a full week from lifting incorrectly. With group fitness trained instructors will help you find the perfect balance and always incorporate stretching, warmups, and cooldowns within the class. You leave feeling accomplished and don't have to worry about aching pain the days to come.

Fun Community
● Lastly, group fitness is overall an encouraging and fun community to be part of. Attending these classes can help you build new relationships with other members or even with staff. This is an uplifting and positive community that wants to see you succeed. Each and every one of the instructors is there to help you so don't be afraid to chat and ask questions!

Working out can be intimidating for many people. If you have any doubts in starting your fitness journey I highly encourage you to check out group fitness. I discovered these classes my sophomore year here at UW-Whitewater and I wish I would have known about them sooner. It is a great way to stay motivated and mix it up!

Do not get discouraged.

Cora Shircel
---
---