We long for it to be a break already, and then all of a sudden it is the end of the semester! Finals and graduation can really creep up on you out of nowhere. Do you need some last-minute inspiration for personalizing your graduation cap? Well, us here at Craft Corner have got you covered!
We will be showing you how to decorate an overlay for your cap (so you don't have to craft directly on your cap) and how to decorate your cap using paint.
Cap Overlay
Necessities:
Sturdy paper (scrapbook, sketchbook, construction, etc)
Ruler
Scissors
Any coloring materials you want: Pencil, sharpies, markers, colored pencils
Step 1: Pick out some sturdy scrapbook paper of your choice! I chose white so I would have a clean, white background. I free handedly cut mine, but feel free to use a paper cutter if you have one accessible for a more accurate cut. Just measure the sides of your cap with a ruler and then cut your paper accordingly!
Step 2: Make sure you cut a hole in the middle of your cap where your tassel attaches so you can easily place your overlay on top of your cap when finished.
Step 3:Once you have your paper all cut, get crafting! Take the time to write something funny, cute, inspirational or meaningful to you on your overlay. I chose to write: the world awaits. First write this in pencil just in case you mess up, and then go over this in sharpie for a crisp look!
Step 4: Start your decorating! For this quote, I drew Earth, the sun, some clouds and stars. Be sure to do this in pencil first.
Step 5:Color your shapes/decorations in, then outline your quote and decorations in sharpie to finish the look!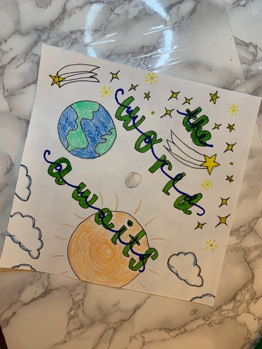 Step 6: Place your overlay on top of your cap and then attach your tassel. Tape or glue the sides down to your cap to secure it. That's it! You're done with your very own graduation cap overlay!
Decorating Your Cap With Paint
Necessities:
Paint (fabric or acrylic)
Paint Brush
An Idea!
Step 1: When I first made my graduation cap, I drew it out on a piece of paper just so I knew what I wanted to do.
Step 2: After I drew things out and played around with the layout, I went for it! Use your imagination with this. Your cap is supposed to be all about you! It does not have to be anything crazy, keep it as simple or fun as you would like.
Step 3: Let dry! Leave it out over night or throughout the day to ensure that everything sets.
Tips:
Do NOT use too much paint. Paint things in layers rather than caking it on. By this I mean, instead of putting on a big glob of paint, paint in light layers. Your graduation cap is cardboard so if you paint too thick, it will seep through and cause damage to your actual cap.
If you have Cricket or stickers, utilize them! I painted all corners of my cap, but used a Cricket for the word in the center! (the German word for unstoppable in honor of my grandmothers)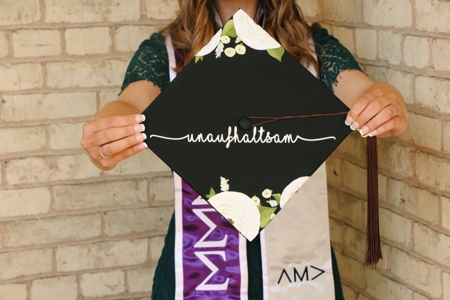 Don't be afraid to personalize your cap the way you want it, after all, it is your day! The options are endless for this craft. Graduation day is something special, whether it is in-person or virtual, and you should be proud and celebrate accordingly. Dress up, wear your cap, and enjoy the day that you have been working so hard to get to.
Thanks for crafting with us! Congrats on your accomplishment if you are graduating. Just keep crafting!