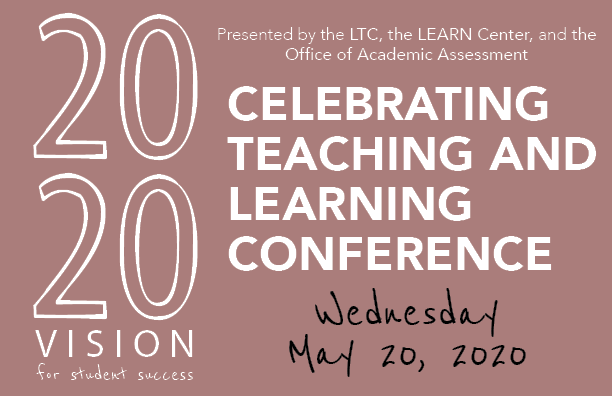 The 2020 Celebrating Teaching and Learning Conference will be held on May 20th, 2020 on the UW-Whitewater Campus. This year's conference will be the "2020 Vision for Student Success" focusing on the following themes:
Student Engagement
Integrating Teaching and Technology
Access and Inclusion
High Impact Practices
Additional information is available on the conference website.
---

The Cisco/Presidio Teaching with Technology Innovator Honorarium is a recognition that will be bestowed upon an instructor who displays an outstanding commitment to leveraging learning technologies to solve common teaching challenges related to creating rich learning experiences to increase student success. Applications are due by February 25, 2020.
Application information is available at: Cisco/Presidio Teaching with Technology Innovator Honorarium.
---
UW-Whitewater Mobile App
The official UW-Whitewater App is available to download. Instructors may find the App useful for communication with students, to see upcoming campus events, and to help students connect with resources.
As an instructor, authorize the UW-Whitewater App to interact with your Canvas account. This will allow your students to get assignment due date notifications inside of the app. You can also leverage the app to help communicate with your students regarding upcoming events, or help them connect to campus resources. You will only need to do this ONCE and it will apply to all of your current and future courses. Authorize right now, it takes less than 5 minutes!
For additional information please check out our website: http://www.uww.edu/icit/services/uw-whitewater-mobile-app
---
LTC Assistant Director
The LTC welcomed Melissa Smiley as the new Assistant Director of Campus and Learning Technology in November of 2019. Melissa's responsibilities include: identifying audience technology adoption and tracking their proficiency, developing systemic evaluation methods and training workshops in areas of need, assisting with strategic planning and partnerships, and finally, guiding the LTC staff and supporting ongoing growth.
Melissa, her husband (Dave), and their 5 children (Molly (14), Elizabeth (12), Catherine (11), Laney (7) and Luke (7)) live in the town of Ottawa, WI. They are joined by an elderly dog named Willow, who despite being fed by Melissa, favors Dave.
We are thrilled to have Melissa join our team, please take some time to welcome her the next time you see her!
---
Weekly Email Updates
Did you know that you can get a weekly email update about what's going on in the LTC? Every Monday morning, you will get an email that contains a summary of the latest items from our blog. To signup for these updates, just fill out the form below!

---
Streaming.uww.edu (Vbrick Rev) Planned Outage – February 8th
On Saturday, February 8th 2020 between 9 AM and 5 PM VBrick Rev (http://streaming.uww.edu) will be unavailable for scheduled maintenance. During this outage, we will be deploying the latest version of VBrick Rev. Additional details are located here: Streaming.uww.edu (Vbrick Rev) Planned Outage – February 8th.
---
Workshops and Hands-on Training Opportunities

We have a number of workshops scheduled for the coming semester. Whether you are looking for Online Course Development Tools, wondering how you can utilize LinkedIn Learning in your courses or just looking for some training on the Google Suite, be sure to checkout the event signup at http://go.uww.edu/ltc-workshop-signup.
---
Collaboration Tools
Webex Teams is a collaboration tool designed for continuous teamwork with video meetings, group messaging, file sharing and white boarding. Get started at: https://www.uww.edu/icit/services/webex-teams
Webex Meetings is an online web conferencing tool that allows you to meet with colleagues or classmates anywhere in the world using your internet. Get started at: https://www.uww.edu/icit/services/web-conferencing-and-webex-meetings#WebexMeetings
The Cisco Webex Education Connector is available for use in Canvas! The Webex Connector allows you to interact with Webex Meetings and Webex Teams directly from your Canvas course. It can be accessed by clicking on "Cisco Webex" in the course navigation menu. Get started at: https://spaces.uww.edu/x/74I3AQ
Google Apps are web-based tools available to all UW-Whitewater users. They allow you to create, share and access documents from any internet-connected computer, tablet, or mobile device. Get started at: https://www.uww.edu/icit/services/google
Custom Consulting & Training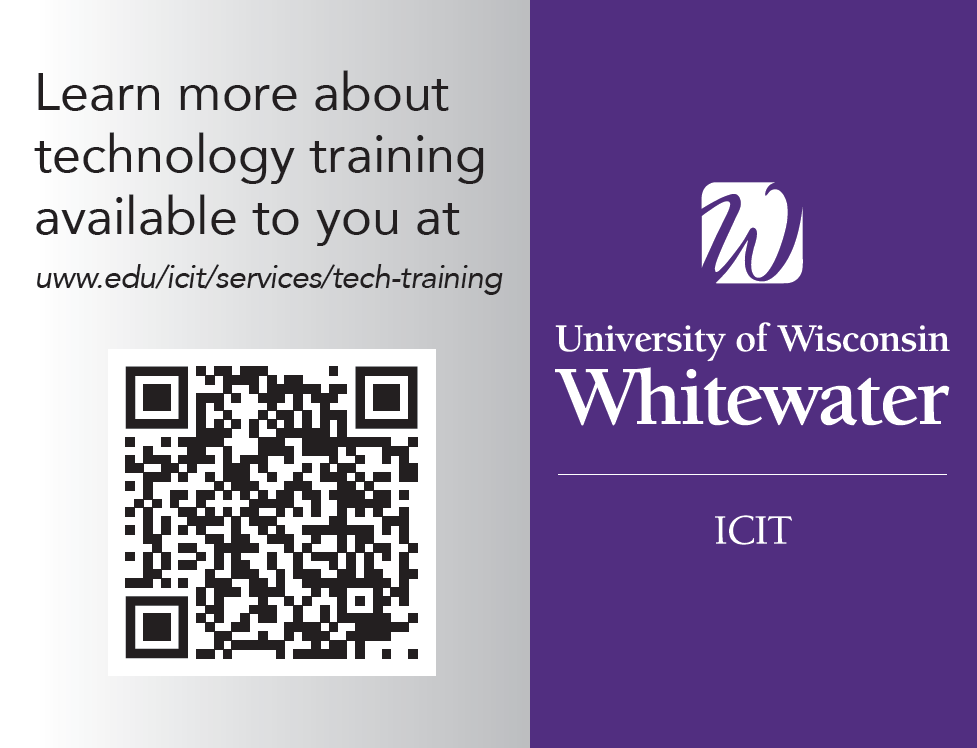 Custom Consulting and Training Services are aimed at helping departments find software solutions to meet their needs. Small-group training sessions can be customized to cover topics relevant to your team and available schedule.
Contact the Learning Technology Center for additional information!
---
Don't forget to Visit Us
Are you still with us? If so – great, you made it to the end! Be sure to stop by the LTC throughout the semester to visit. As a reminder, we are located in McGraw Hall, Suite 120 and are available between 8:00 AM and 4:30 PM weekdays. We can also be reached at ltc@uww.edu or 262.472.1004. We'll always be willing to help, and have plenty of treats on hand for your sweet tooth. Have a great semester!