9 Reasons to Try a Group Fitness Class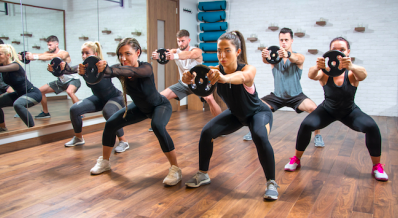 Are you bored of doing the same workouts at the gym? Well, if you have a UW-Whitewater fitness membership you can try out a group fitness class! Group fitness is located in the Williams Center and they provide classes throughout the week to members. If you enjoy cycling classes, they are available in University Fitness Center in the basement of wells.
Different classes are offered daily, and the format of classes rotate each week. Classes are anywhere from 30 minutes to an hour. They are fun and exciting, plus a new and improved way to your workout routine! Keep reading to learn all the benefits to attending a class!
Sign up HERE 48 hours in advance to any group fitness class to reserve your spot!
Diversify your workouts
a. Instead of doing your normal cardio or weightlifting routine, try a class that does both strength and cardio in one!
Challenging HITT workouts
a. If you choose to take a p90x or insanity class, you will definitely get your heartrate up by doing High Intensity Interval Training cardio exercises. Get ready to sweat!
Never get bored
a. It is impossible to get bored from taking group fitness classes. Variety of classes are offered daily and if you like the class and go back another week, the format and exercises will be different!
Motivation
a. Group fitness classes provide a different type of motivation because you are working out with others and being taught an outlined workout.
Different workouts = Working different muscles
a. Changing up your workouts and types of exercises you do, works muscles you may not always work because you didn't know how to before.
Working out can be fun and not dreadful
a. Classes have motivating music and the instructors put lots of energy into their class making it fun to work out!
Instructor's challenge, inspire, and push you to work harder
a. Not only do the instructors teach a tough class to challenge everyone, but they are going through the challenge with you so they keep motivating and pushing you harder.
Workout with a group
a. Working out with a group can motivate you to work harder and build your endurance. Use working out with friends or in a group setting to motivate you to commit to a workout routine.
Modify to everyone's ability
a. Even if you are completely out of shape, instructors always provide many variations of exercises, so everyone has the option to modify their workout to make it their own.
I challenge you to give just one class a try that sounds the most interesting to you! Pick a class from the group fitness weekly class schedule linked here.
Don't forget to download the new UW-W Rec Sports app to sign up for group fitness classes much easier!

Strive for progress not perfection!

Kayla Withrow
---
---