Whether you picked up your Take and Make kit from outside of Roberta's Art Gallery or are checking out this craft on your own time, for your Cacti Pom-Pom craft you should have the following materials:
One small terracotta pot
One piece of styrofoam
Approximately eight light green pom-poms
Approximately four dark green pom-poms
Two pink pom-poms
One yellow pom-pom
Three toothpicks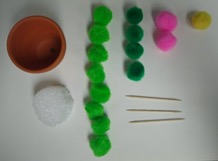 Step 1:
To begin, cut the piece of styrofoam down to your desired height (the shorter it is, the less you will see of the foam, but the deeper your "cacti" will be in the pot)
Step 2:
Place the styrofoam circle into the terracotta pot, pushing it down to make sure it is secure.
(With your pom-pom cacti, you can mix and match color combinations: the listed combinations below are simply suggestions.)
Step 3:
Take one toothpick and a light green pom-pom. Carefully press the toothpick into the center of the pom-pom and twirl the toothpick until it goes through the pom-pom. Repeat this with three more light green pom-poms for a total of four light green pom poms on one toothpick.
Step 4:
Finish your first cactus with a pink pom-pom on the top. Press the exposed end of the toothpick into your styrofoam so it stands upright.
Step 5:
Repeat the previous two steps to make another light green cactus with a pink top.
Step 6:
Using the steps from above, to make your final cactus, use all four dark green pom-poms and top it with a yellow pom-pom.
There you have it! All of your cacti have now been made, and it's that easy to assemble! Thanks for tuning in for this mess-free craft. I hope you have a good home for your new pom-pom cacti. As always, just keep crafting!