I love making unique pieces of clothing for crafts, because it is a craft that is functional! My most recent original piece of clothing I made is an iron-on patch crewneck sweatshirt. Let me show you how to make this simple and quick clothing craft.
Necessities:
Iron-on patch(es)
Cotton Crewneck sweatshirt
Iron
Pillow case or thin dish towel
Pro-tip: Packs of iron-on patches are much cheaper on Amazon than in person at a craft store. If you plan ahead for this craft, it'd probably save you money purchasing materials online.
Step 1:
After you've gathered your materials, make sure that your crewneck is freshly ironed. This is necessary to avoid wrinkles in your sweatshirt, and make sure that you're ironing on your patches to a crisp and clean surface.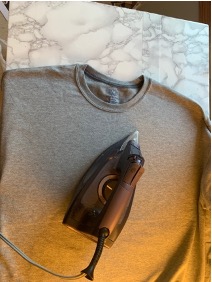 Step 2:
Figure out where you want your patch positioned on your sweatshirt! After playing around with the positioning, I chose to put my rose patch in the upper corner of my sweatshirt for a subtle look.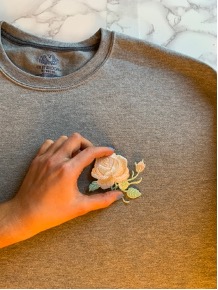 Step 3:
Next, it is time to iron on your patch! Place a pillowcase or a thin dish towel over your patch before ironing. I had to have my iron on the hottest setting for this to stick the best to my sweatshirt. I recommend ironing on the patch for a couple minutes, and then checking to see how it is sticking onto the sweatshirt. Make sure to really focus on the edges and corners of your patch as well to avoid future peeling.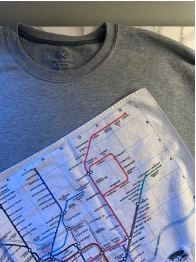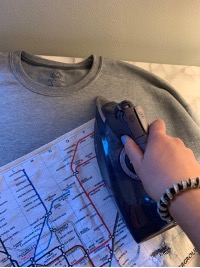 Step 4:
Once your patch is ironed on, turn your sweatshirt inside-out and iron over where your patch is on the other side. This helps to secure the adhesive of the patch. Obviously repeat step 3 and 4 if you have more than one patch as well.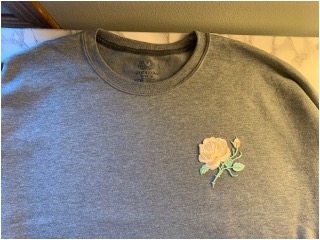 Pro-tip: When washing your crewneck in the future, I recommend turning it inside-out so that your patch will be more protected from the washing. I also recommend air drying the crewneck if you can to help preserve your patchwork!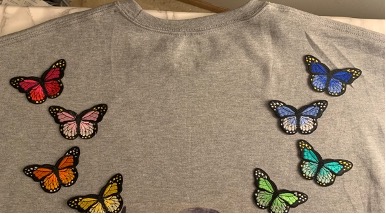 Here is another design I made on the back of my crewneck. This DIY craft is awesome because it gives you so much creative freedom! You can keep your design simple with one patch, or iron-on multiple patches for your own personalized look. I hope this blog inspires you to make your own crewneck! As always, just keep crafting!