On-campus and off-campus, you see signs and logos like this: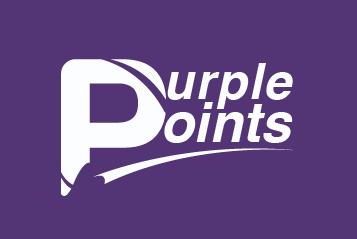 What does that mean? It means you can use your HawkCard to save time or money or make a convenient payment.
Purples Points is a multi-purpose, debit card-like or gift card-like account that works only from your HawkCard.
Why would you want to use this account instead of cash, credit card, or a debit card from your bank? Let's count the reasons to use it.
Free service! No annual fee.
Late night vending machine purchases with your HawkCard!!
Save money! Save 5.5% (the sales tax) at on-campus dining locations, both Whitewater and URock, if you want to save your meal plan or Dining Dollars or don't have a meal plan or Dining Dollars.
Faster than credit/debit cards when used on campus, less than 5 seconds for payment.
Pay for bowling or billiards at Warhawk Alley.
Buy clothing or other items at the UW-W Bookstore at Whitewater AND URock.
Pay for specialty printing and other services at the Andersen Library Media Lab and CA Art & Design Lab.
See the complete list of on-campus locations at the HawkCard Office website. It's a lot.
Eat off-campus in Whitewater at 12 businesses, or get your hair cut/styled at Cost Cutters, if you don't have a debit or credit card. See the complete list of off-campus businesses at the HawkCard Office website.
Check your balance online with the free app for your phone.
The account balance rolls over year-to-year until you graduate UW-W or leave for any other reason.
Help budget your money.
Available to all registered students and all faculty/staff.
Did we mention opening or using Purple Points is free?
How do you add money to your Purple Point account?
Charge to your student account using the request form from the HawkCard Office website or stopping at the HawkCard Office in UC 250.
Parents/family/supporters can make guest deposits using the Online HawkCard Office to support you.
Make cash, credit/debit card or check deposits to your account in person at the HawkCard Office.
In summary, Purple Points are convenient, can save you money, and are fast to use.
Start using your account today!
For more information see the HawkCard Office website, visit the HawkCard Office in UC 250, or call the HawkCard Office at 262-472-1437.