I am back here again this week to introduce you to some villagers that are part of Stardew Valley. Today we are going to take a look at the two villagers, Gus and Emily. I will be discussing their occupations, family/freinds, and gifts that you should and shouldn't give these two villagers.
Gus

Occupation
To start off, I will tell you a bit about the villager, Gus. Gus is the owner of the Stardrop Sallon that is located in the center of Pelican Town. Every night you will see most of the villagers like to gather there after their long days of work. You can visit the salon yourself from 12PM to 12AM. Gus also lives within the saloon (his house is in the back).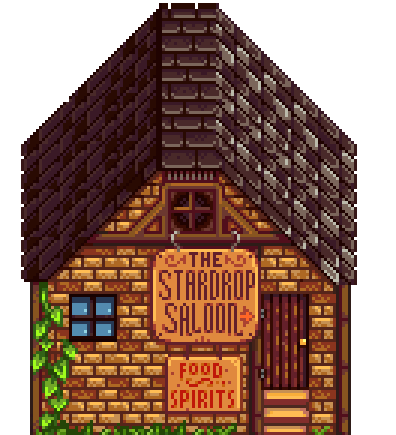 Family and Friends
Gus has no known family within the Stardew Valley; however, he does have a couple of freinds. One of his closest freinds is Pam. Pam is actually the bus driver of the Pelican Town bus. Gus is also freinds with Emily (yes the Emily I will be talking about next).
Gifts
Like most villagers, Gus does accept gifts for players. There are a few gifts that Gus loves to receive: diamonds, escargot, fish taco, orange, and tropical curry. However; gifts that Gus hates are coleslaw, holly, and quartz. Don't forget to find Gus on the eighth day during the summer to give him a birthday gift.
Emily

Occupation
Next, we will talk about the villager Emily. She actually works with her friend Gus at the Stardrop Saloon. You can find her starting her shift around 4PM. Emily lives on the southwest side of Pelican Town
Family and Friends
Emily lives in a cozy house along with her sister Haley. The house they live in actually belongs to their parents who have been traveling the world. As for freinds, Emily is great freinds with Gus, Clint, and Sandy.
Gifts
Emily actually has a long list of gifts that she loves: amethyst, aquamarine, cloth, emerald, jade, ruby, survival burger, topaz, and wool. Just like any other villager, she also has her list of hated gifts: fish taco, holly, maki roll, salmon dinner, and sashimi. Make sure to find Emily on the 27th day of spring to give her a birthday present.
Make sure to go check out my main post for this week! I covered the topic of the Community Center within the game and the bundles available to complete.
All photos are from Stardew Valley Wiki