We all know that this baseball season was going to something like none other. The pandemic changed so many thing and now one of the biggest things to be affected is sports. As the world has adapted to the virus, sports have adapted to being without fans and playing only certain teams in certain areas. When they announced that baseball would be coming back, in their shortened season, they made sure to give everyone a fair shot at it. They expanded the playoffs from 5 teams from each division to 8 teams.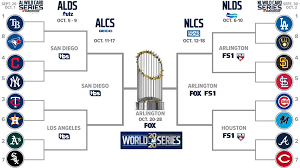 The Breakdown
With all of the teams that could have benefited from this expanded playoffs, it still didn't surprise me as to who all made it in. Each division had 2 teams that made it in then the wild card was made up with the next 2 best team in their divisions. Seeding was based off the teams records during this 60 game season.
Brewers made it? REALLY?
For me the biggest shock was when the Milwaukee Brewers made it into the playoffs with finishing their season 2 games below the .500 average during the regular season. It was the first time ever in franchise history that the team has made the post season three consecutive years. Even though they just never got going offensively this season, the pitching wasn't that bad either.
In the end, I am excited to see who ultimately becomes the champion of the 2020 baseball season, who only a month into spring training was forced to stop because of the virus and didn't know if they would be coming back at all. With all of the agreements and rules set forth by the Player's Association as well as the rules the teams needed to follow in order to have a good season, it showed that these guys just wanted to play. This postseason is going to be a wild one and I am so ready to see the action and drama unfold on the national stage in these bubbles.