On Saturday April 15, Instructure deployed the latest release to the Canvas environment, and the final one before Summer 2023. The highlights of this release are listed below. The full release notes are also available.
Gradebook – Submit Assignment on Behalf of Student: instructors can submit a file upload assignment on behalf of a student in the Gradebook. The submission includes the timestamp and who submitted the assignment. Additionally, the instructor can submit multiple files at a time for a single student and submit beyond the availability date.
Gradebook – Sort Assignments by Excused Submissions and Unposted Grades: In the Gradebook, instructors can sort individual assignment columns and rows by excused submissions and unposted grades.
Equation Editor – Equilibrium Button: In the Rich Content Editor Equation Editor, an Equilibrium button is available.
Pages – Schedule Page Publication:  When editing an unpublished Page, instructors can set a publication date. Scheduled pages remain invisible to students until the publish date and time.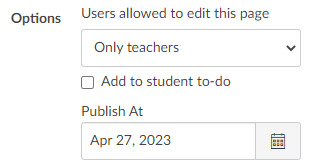 New Quizzes Improvements: While New Quizzes has been available for several years now, many instructors still opt to use Classic Quizzes. Multiple updates have been made to improve New Quizzes, which will not be made in Classic.
New Quizzes – Allow Clearing of Multiple Choice Question Answers: In the New Quizzes settings, instructors can enable Allow Clearing Selection (Multiple Choice) allowing students to clear multiple choice answers.
New Quizzes – Fill in the Blank with Multiple Word Bank Improvements: In New Quizzes, when building a Fill in the Blank question with multiple word bank choices, distractor words display in a separate section for instructors. Also, word choices can be used more than once when Allow Word Bank Choices to be Reused is selected and duplicate answer choices are graded correctly. Additionally, for students, Fill in the Blank questions with multiple word banks display all word bank choices in the answer blank drop-down menu.
New Quizzes – Grade by Question in SpeedGrader: SpeedGrader supports grading one question at a time in New Quizzes. When in Grade by Question mode the question navigation bar is available and the Update score button location has been updated. Additionally, hyperlinks have been added to questions requiring manual grading
New Quizzes – Share Item Bank to Current Course Checkbox: When creating a new item bank in the New Quizzes Build page, instructors can share the bank to the current course. This change reduces extra steps to share an Item Bank and improves instructor workflows when building New Quizzes.
If you have any questions or concerns about the service pack updates, or even just curious about how they can help you, please contact UW-W Canvas Support.