Yes I'm back, back again. Back again for the recap of the World Series Game 6! Surprisingly enough, the Washington Nationals forced a game 7 of the WS last night against the Astros. Surprised? I know, I am too.
The Astros were down 2-0 in the series, when they had a sudden and surprising comeback and won three straight games against the Nationals to lead the series 3-2. The Astros, who I am surprised their pitching gave up the first two games, have started playing stronger and started getting good at bats and are making their rounds through the Nationals pitching.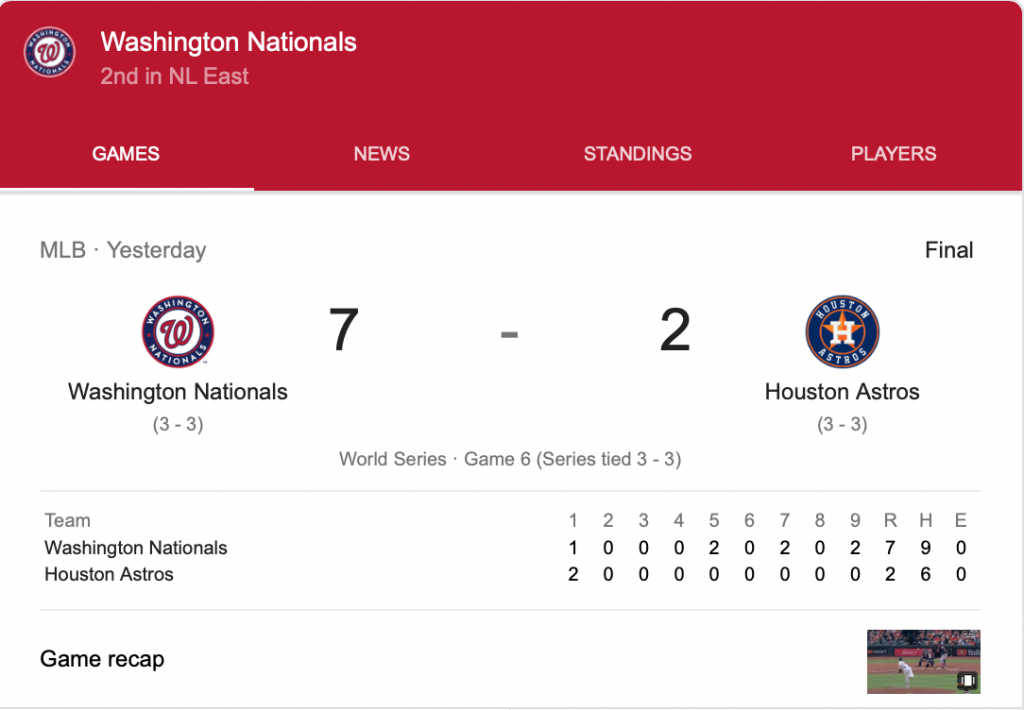 As you can tell, the Nationals won the game last night by a score of 7-2. I believe I mentioned this previously, but I feel like everyone was assuming the Astros were going to win the World Series, just because of how well they did in the post-season thus far. After all, they have superior pitching (or so I thought) and their hitting was producing run after run after run. However, the Astros choked this game as you can tell and it seems like the Nationals have a shot at winning the World Series after all.
If you did not know, the Nationals have not won a World Series title in some 80 something years. So in a sense, it would be cool to see a team that has not won in a long time win (*SPOILER: THE NATIONALS WON THE WS*), because it is cool to see the team and their fans celebrate a long-awaited win and celebrate.