Meeting Ryan Braun (Part 1)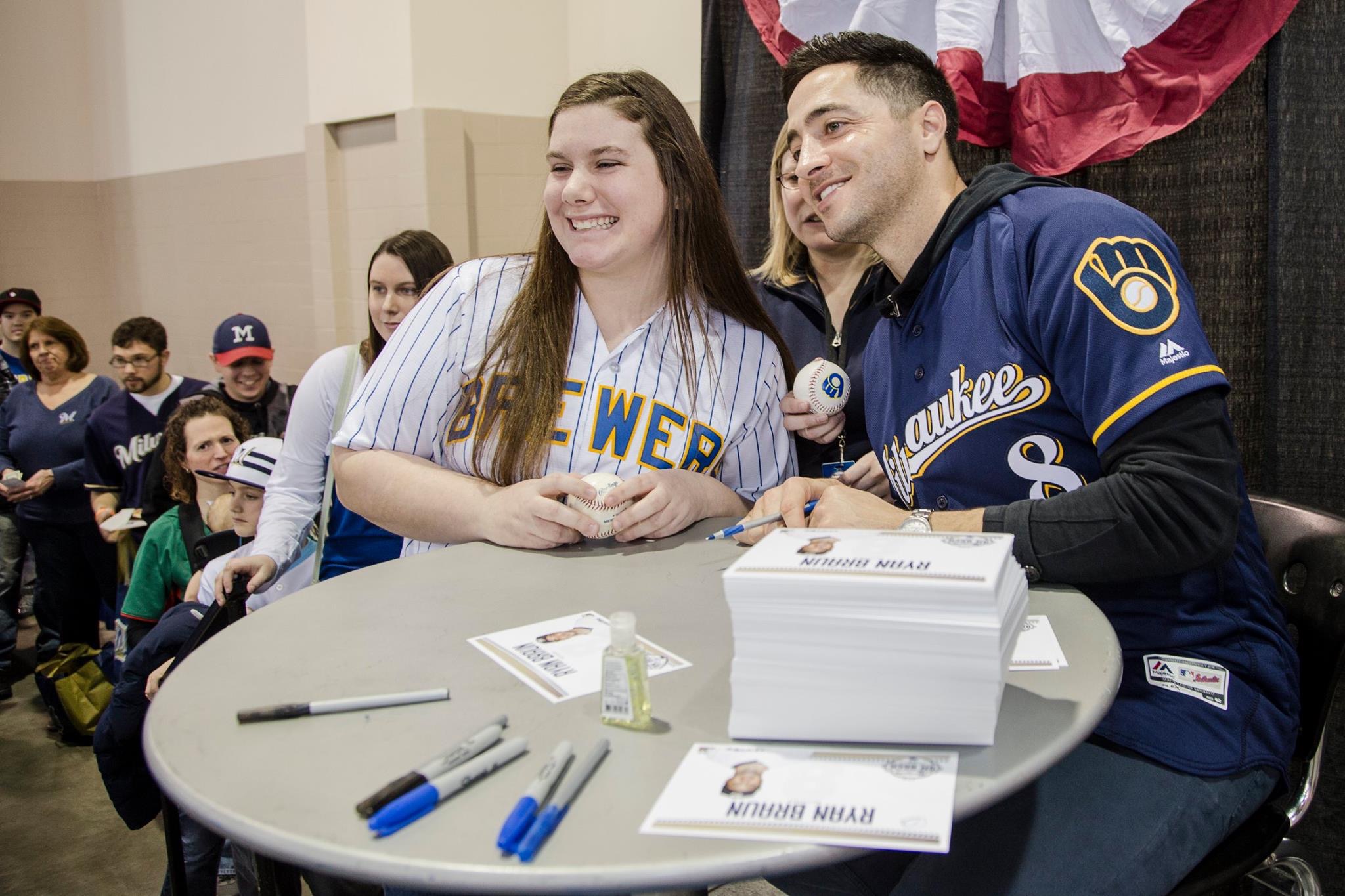 Okay, I don't even really know how to start this post haha. If you know me, you know that I love Ryan Braun. I have for a very long time, and I still do. I remember when I first started liking Ryan Braun around late elementary school. I wasn't as into the Milwaukee Brewers or Ryan Braun as I am now, but I knew that I was a huge fan of his from the beginning. So, I begged my mom to buy me my first Ryan Braun shirt. And from then on, I have bought many more shirts and Jerseys to show my support.
This picture was taken in my room, where I have my own "Ryan Braun wall" haha. (it's not that big don't worry it's not that weird…right?!?). But, the picture I'm holding is me in middle school (very cringeworthy I know) in front of one of Ryan Braun's old restaurants. I had an idea of where the restaurant was, and made my family walk all around Milwaukee until we found it so I could take a picture in front of it. And honestly, I wore Brewers shirts almost every day (and still do who am I kidding), so it wasn't like I planned to wear this shirt. A lot of my childhood pictures include myself in a Brewers shirt.
Anyways, I think you get the jist that I've loved him for a long time. But, it wasn't until my Freshman year of college that I was able to first meet Ryan Braun.
I had never heard of Brewers on Deck until  2016, but knew that Ryan Braun would be there. So, obviously, I knew I had to go. It was such an amazing experience, and made me fall in love with Brewers on Deck.
As you may or may not know, there are some players/coaches that you have to pay for an autograph and some that are free. So, obviously if you want an autograph from Ryan Braun, you're going to have to pay. But, it's only $25, which is actually a steal (ha, see what I did there). Ryan Braun is probably the hardest player to get an autograph from though, because you basically have to stand in line all day as he only signs for so many people. But, I was determined to stand in that line, and get his autograph.
I was so excited to finally meet him, and I don't even think I said much to him because I was so awestruck. (Plus, the workers don't give you a lot of time to talk). It was still an amazing experience, and grew my love for Ryan Braun after meeting him one time.
The 2018 #BrewersOnDeck Attendees have been announced! Here's who you can expect to see on January 28: https://brewers.mlblogs.com/2018-brewers-on-deck-attendees-announced-b253cb0be73d

Posted by Milwaukee Brewers on Tuesday, January 16, 2018
I got a picture with Ryan Braun (even though they tell you no pictures), and one of the social media employees for the Brewers took my picture and posted it on Facebook and Twitter and used it to promote this past year's Brewers on Deck (which was incredibly cool)!!
Additionally, I was pictured in the Journal Sentinel in 2016 because one of their photographers also took a picture of Ryan Braun and I. It was really cool to be in the newspaper, but also see how happy the Milwaukee Brewers (and Ryan Braun) made me feel.
Alright, I'm going to end this long post because if I don't now, I may never stop haha. I'm sorry that this this post ended up being so long, but I wanted to (very briefly) explain where my love for Ryan Braun started, while also talking about the first time I met him. As you can see from the title, this is only part one because I have met him a few more times and will be talking about those times in later blog posts. I hope you enjoyed reading and look out for the next post!!
---
---