For this week's Getting to Know the Community Post we are going to be taking a look at Willy, a villager of Pelican Town!

Occupation
In Stardew Valley, Willy is known as the local fisherman. He owns his own fishing shop that is located at the beach south of Pelican Town. His shop is open every day from 9AM-5PM. His home is also connected to his shop like many other villagers. When Willy isn't working you can commonly find him fishing at different locations or at the saloon at night.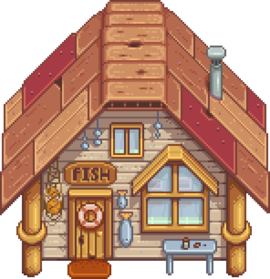 Friends
Willy doesn't have any known family within the Stardew Valley. However, he is pretty close to one villager. Willy considers Elliot to be one of his friends. Elliot also lives on the beach, so it makes sense that they have developed a friendship.

Gifts
Like most villagers, you are able to give Willy gifts to increase your friendship with him. Gifts that he absolutely loves are catfish, diamonds, and iridium bars. You want to avoid giving chanterelle, common mushroom, and daffodil (most forgeable items he doesn't like but these are the top three most hated). Don't forget to give Willy a birthday gift on the 24th day of summer!
All Images are from Stardew Valley Wiki