*Review is of Castaways Thrift Shop in Janesville exclusively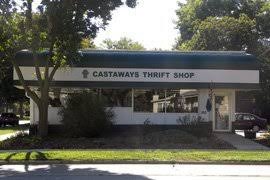 Like Twice Is Nice, I love shopping here for its vintage-y charm. I also admire that again, like Twice Is Nice, Castaways has dirt-cheap prices that I, as a broke college student, can afford. I rarely leave here without a bag full of goodies, which also includes some knick-knacks.
If you haven't gotten really into thrifting or how to navigate thrift stores yet, I would definitely pop into Castaways– it's quaint, so you won't feel too overwhelmed and you can also check out actual vintage pieces that won't cost you an arm and a leg.
Here are the pros and cons of Castaways Thrift Shop:
Pros:
Selection- I love being able to get vintage pieces here and they have the cutest knick-knacks. I once found a vintage Fossil purse here that had $15 in it! Double score!
Clean- I'm sure you get it by now.
Cheap- I would say the prices are comparable to Twice Is Nice… even the vintage Fossil purse was only like $7.
Quaint- It's adorably cute because it's so small, but that doesn't mean I won't spend a few hours looking at everything. However, if you were in a time-crunch you could easily look through everything in an hour.
Cons:
Cash Only- Just remember to bring cash. Enough said.
Picked Over- Occasionally, I have come in and there was almost nothing on the racks. I guess I was the only one who didn't know there was a sale that weekend. If this ever happens, come back the next day and you'll have the first dibs on all the new stuff. It happens.