The Brumder Mansion is located in Milwaukee, WI and has no shortage of paranormal activity within the historic Victorian walls. There have been reported sighting's of spirits from customers and workers of seeing the same apparitions. However, it is a place where couples go for a romantic get away at this beautiful bed and breakfast. They will host a variety of events for you within the beautifully decorated walls of the place. But with a place that has so much history dating back to 1910, there's bound to be a few ghosts wandering around.
History of Brumder Mansion
George Brumder moved to Milwaukee in 1857 from Germany and became one of the most famous German-American publishers. One of his publications was called the Germania and quickly was gained wealth by reaching other German-American people with his paper. Because of his wealth, he decided to build a house for his adult son which became what is known as the Brumder Mansion.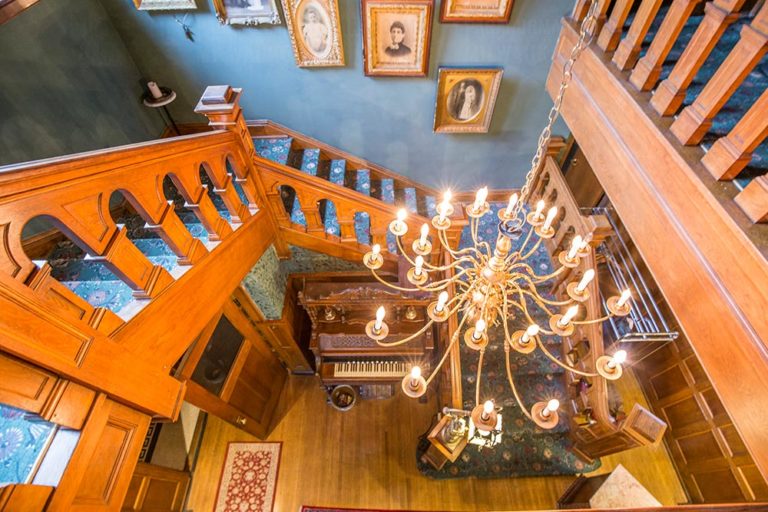 George Brumder Jr. would decorate this mansion in an artsy, gothic, and Victorian style. It was as extravagant then as it is today with three floors and 8,000 square feet. This house was even built with a ballroom. George Brumder would not see the fully completed house he had commissioned since he had died in May of 1910. The mansion cost $25,000 to build which is worth $684,947.37 today in 2020.
The mansion had 3 other owners, including one family thought to have ties to Al Capone, before the current owners bought it in 2008. Carol and Robert Hirschi had restored and made it into a bed and breakfast but sold in 1997 to the current owners. The Brumder Mansion is still a historic bed and breakfast to this day.
Hauntings
There are 3 main ghosts that are sighted within the walls of this place, including one which may be Brumder Jr. himself. The other two are a woman who is seen frequently in the Gold Suite and a young child who could either be male or female.
The previous owner, Mrs. Hirschi, has had experiences with the woman entity in the Gold Suite. She stayed in the suite one night with her dog and heard a voice yelling at her to get the dog off the bed. She also said that the mirror in the bathroom was lifted off the hook and shattered in the bathtub when no one was around or staying in that room currently. When discovered, there were also droplets of fresh blood where she thought a body from the floor above could be dripping from the ceiling, but there was no explanation.
Other guests reported having intense dreams of a woman while staying the night in the room. A psychic had visited the suite and reported a woman who called herself Susan said she was not a fan of the new fancy decor and no longer wanted dogs to stay in the Gold Suite. Dogs are no longer allowed in the Gold Suite and the spirit has calmed down since then.
The second sighted spirit is a man who is believed to be Brumder Jr. that resides in the George Suite. There is a male presence that haunts that room and the ones nearby. People report feeling cold spots and objects that disappear only to be found in the original spot days later. Paranormal investigators reported hearing footsteps and humming outside of the suite's door. Shadows have been seen inside the room as well as an investigator reporting an intense headache inside only for it to completely go away once stepping outside of the room
A young child is the third most sighted ghost inside the mansion. It is unclear if it is a girl or boy spirit and is seen on the third floor near the Marion's Suite. One investigative team recorded an EVP of what sounded like a little girl saying "Don't leave, help me". Other guests have reported the feeling of someone jumping on the bed while staying in the Marion's Suite. Others report feeling a mischievous or playful presence in the room with them. The child spirit is thought to be the reason for when some guests get locked out of the mansion or when the doorbell refuses to ring after pushing it.
This mansion is full of history and delights all guests that come in. Not every guest believes this place is haunted, but all who come enjoy their stay. With a mansion this old and with so many different owners, there is bound to be a few ghost stories within the walls of the mansion. The paranormal stories will remain just one of the charms of this historic place.