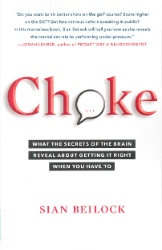 Choke:
What the Secrets of the Brain Reveal About
Getting It Right When You Have To
by Sian Beilock
BF575 .F14 B45 2011
New Arrivals, 2nd floor
We just had two candidates here interviewing for an open position, and they both were able to overcome the jackhammer and construction during their presentations. Not only that, they shared some really technology tools that I'll write about later. However, I wonder if they've read this week's featured title about the brain and overcoming pressure.
Beilock, a psychology professor at the University of Chicago, doesn't freeze up when she's talking about her research interest. She's got this. That's because she knows the tips and tricks of science when it comes to performance. Specifically, the research that she describes in her book deal with the physiological and neurological effects of stress and anxiety and its implications for high-intensity situations. The author devotes each chapter to specific cases, like the big test, practicing, or the main event itself. The work is written in an easy-to-understand fashion with examples that we can identify with, regardless of our comfort levels.