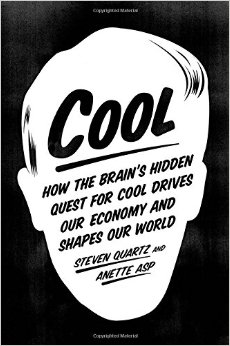 Cool:
How the brain's hidden quest for cool drives our economy and shapes our world
by Steven Quartz and Anette Asp
HF5415.32 .Q37 2015 New Arrivals, 2nd floor
What do designer jeans and neuroscience have in common? Steven Quartz and Anette Asp explain in this fascinating book. Cool explores why we buy what they buy and how our purchases give the world an indication of our social status and the group of which we are a part. The book presents scientific and historical evidence of the pursuit of cool around the world. If you're interested in how consumer trends come to be or would like to learn more about the brain or marketing, this book is highly recommended.
You might also be interested in watching The Merchants of Cool, available through Films on Demand.