Campus members will see new Webex Suite logos starting on Tuesday, June 15. Cisco announced new branding for the Webex Suite, which will affect the way Webex application logos will appear on desktops, web browsers, and mobile devices. Any new downloads of applications in the Webex Suite will have the new logo as well.
Webex by Cisco, the new Webex brand system, is designed to reflect Cisco's guiding design principle: inclusion. The new Webex logo is a "W" in the form of a rotating double helix, symbolizing two hands coming together.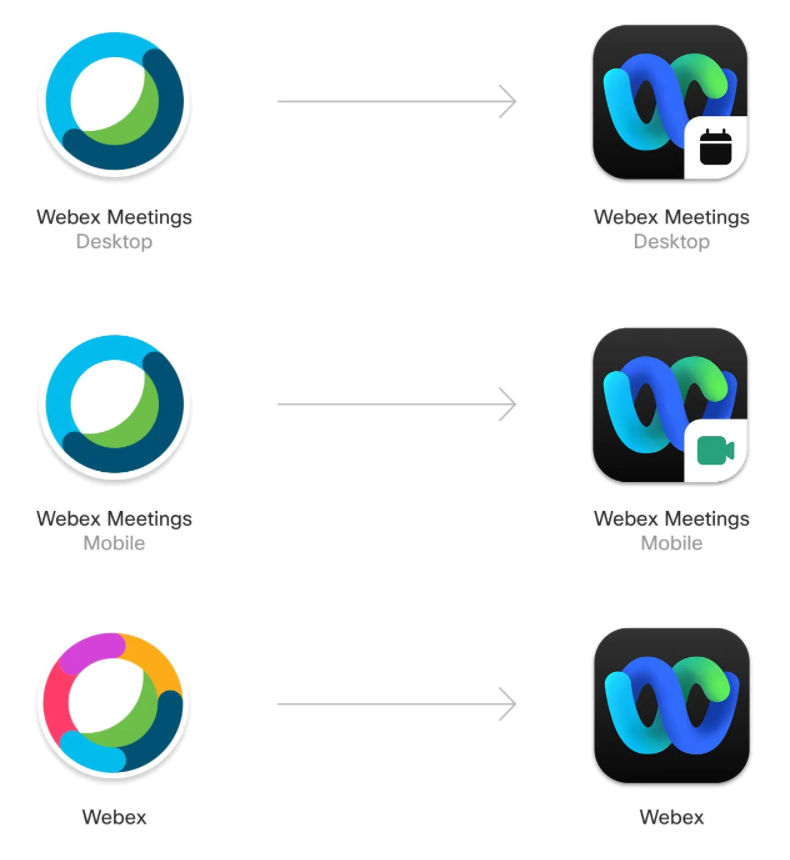 Along with the updated look, on Tuesday, June 15th, Cisco released the Webex Meetings 41.6 update. Highlights of this release are listed below with full release notes also available.
Optimized Shared Content dialog box: An updated look and feel to the share content box will make it easier to find the options you're looking for, without having to scroll as much.

New Sharing Icon: With the updated Webex branding, you'll see the sharing icon has been updated as well. This new look indicates who has the presenter role.

Layout Optimization Features:

Scale the filmstrip in both the Stacked and Side-by-side views by dragging to make the filmstrip bigger or going the other way to hide the filmstrip by collapsing it completely.
Hosts and cohosts will have a new option when syncing their stage to "Lock attendee view on stage only," which hides the filmstrip from attendees' views, so they can only see what's on stage. This prevents attendees from being able to change to a different view and can be useful when hosts want complete control over who attendees can and can't see at any given time. Additionally, a new "Stop" button will make it easier to stop syncing your stage.

Reactions flow in Webex Rooms: Send and receive reactions across Webex Rooms devices (like video-enabled classrooms and conference rooms) and Webex apps.
If you have any questions or concerns about this update, please contact the UW-W Learning Technology Center.