Beginning in January of 2021, the Adobe Flash Player will be uninstalled from campus devices. Previously, in July of 2017, Adobe announced that the Flash Player will no longer be distributed or updated after December 31, 2020. Additional information can be found on the Adobe Flash Player EOL General Information Page.
If you are still actively using objects that require Flash Player in your courses please contact the Learning Technology Center to discuss the best alternatives.
How do I know if I'm still using Adobe Flash?
Adobe Flash files generally end in the ".swf" extension, and are combined with a webpage in order to view the files. When you are viewing the file, if you right click on it you will typically see an "About Adobe Flash Player" dialog.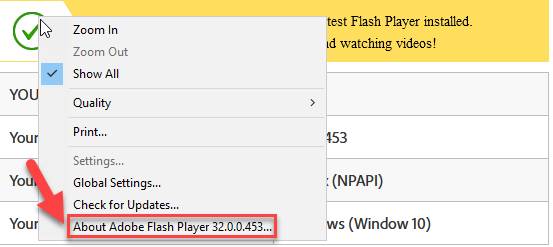 What do I do if I'm still using Adobe Flash objects on my courses?
We would suggest that you look for alternative HTML5 versions that are more compatible with mobile devices and the latest browsers. The Learning Technology Center can also help you determine the best alternatives based on your specific materials.