NBA: John Wall, in conjunction with the John Wall Family Foundation, surprised doctors and nurses at UNC Rex Hospital in Raleigh, North Carolina and MedStar Washington Hospital Center in Washington, D.C. with a donation of 2,300 N95 masks to aid their efforts in fighting the COVID-19 pandemic. Wall also partnered with Chick-Fil-A to provide approximately 600 meals for front line workers and first responders at each location.
Both locations hold a special place in Wall's heart. Wall lost his mother, Frances Pulley, to breast cancer in December. In the months leading up to her passing, Pulley received the majority of her medical care from MedStar Washington Hospital Center and spent her final days at UNC Rex Hospital in Wall's hometown of Raleigh.
The donations of masks and meals at both locations were made in Ms. Pulley's name.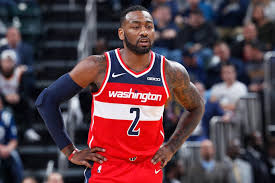 MLB: With the spread of the novel coronavirus threatening Major League Baseball's 2020 season, the league and the union continue to seek ways to salvage the year as best they can. Predictably, that has entailed any number of proposals and contingency plans, including those that would see teams either all isolated in Arizona, or split between Arizona and Florida. On Monday, multiple league sources informed CBS Sports about a different idea that has been discussed in recent days. 
In this arrangement, the league would have teams stationed in one of three hubs: Florida, Arizona or Texas. The clubs would then make use of the local major- and minor-league (or spring training) facilities and play regular season games behind closed doors without fans.
One source even expressed guarded optimism about the idea's chances of coming to fruition.
Ballparks in St. Petersburg (Florida), Phoenix (Arizona), and Arlington (Texas) each have roofs, retractable or otherwise, that would safeguard against rainouts and other extreme weather, allowing for multiple games to be hosted at those sites per day. Theoretically, MLB could also ask teams stationed in Florida and Texas to drive three-plus hours to other MLB parks (Houston's Minute Maid Park and Miami's Marlins Park).
It's unclear if MLB would assign 10 teams to each metropolitan area, or if it would opt for an unbalanced approach that would see 12 teams in one area and eight in another.
NFL: The first round of the 2020 NFL Draft ticked along methodically at first but it eventually brought the sparks that everyone had been expecting, with the biggest move of the night courtesy of the Packers, who traded up to take Aaron Rodgers' heir apparent in Jordan Love. Day 2 was more active in terms of trading, with the biggest perhaps being saved for last, as the Saints dealt away all four of their Day 3 picks to slide into the end of Round 3 for tight end Adam Trautman.
Keep it locked here for live updates, breaking news and rumors ahead of the draft as well as the picks themselves with takeaways and more once the third day of the draft gets underway. During the hours leading up to Day 3 we will be providing more analysis and the latest rumors and hopefully a few completed trades. Happy draft weekend!