[ALBUM REVIEW] 21 Savage – Savage Mode 2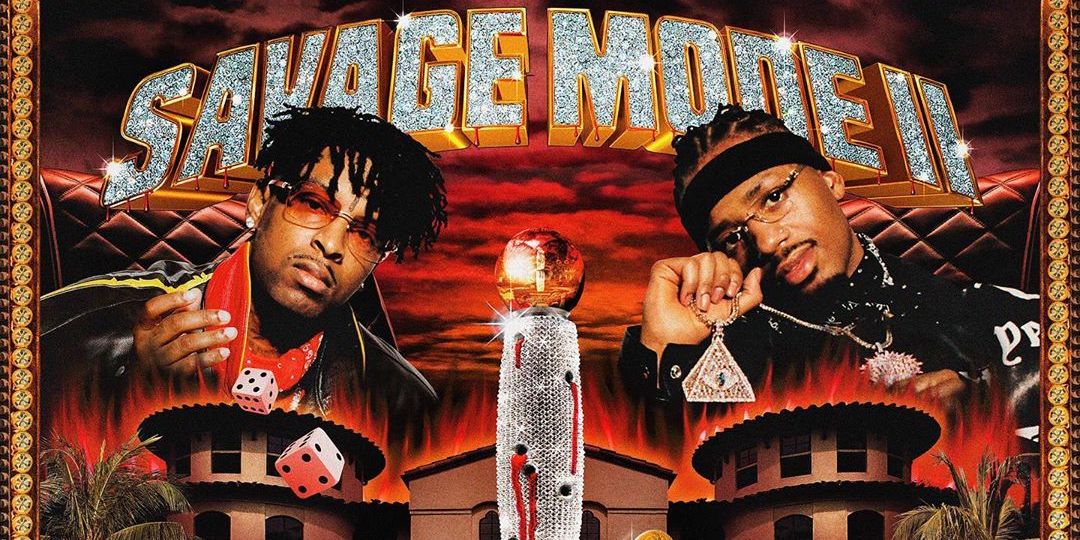 21 Savage and Metro Boomin recently released a sequel to their 2016 album Savage Mode. Savage Mode made it clear that 21 Savage and Metro Boomin were here to stay when it came to the genre of trap music. The dark and eery production paired with 21 Savage's flows and style made for a great collaboration between the producer and rapper. One of my criticisms of Savage Mode in 2016 was that it is very one-dimensional. Since 2016, 21 Savage has developed as a rapper and an artist, and it shows on Savage Mode 2.
Savage Mode 2 begins with an intro Narrated by Morgan Freeman. The intro sets the tone and themes of the album. The instrumental is a dark and ethereal. The first track of the album is "Running." Metro chops a sample and uses some heavy sub bass for the instrumental. 21 Savage's hook is what stood out to me on this track. He has really grown in writing hooks since 2016. Overall, "Running" is a great start to Savage Mode 2.
"Mr. Right Now" featuring Drake is one of the most popular songs off the album in terms of radio play and streams. The ambient and bouncy instrumental is great. It reminds me of something that Pierre Bourne would do. 21 Savage delivers a solid verse and hook about how he has a soft spot for certain women. I also like that he's paying some homage to Drake by using Drake's flow from "Nonstop" off Scorpion. Drake delivers some laid back vocals that aren't anything special but they compliment the track.
Next is "Rich N*gga Shit" featuring Young Thug. Metro kills the instrumental with atmospheric synths, a groovy bassline, and a violin. 21 Savage doesn't have the best singing voice in the world, but it just works. He manages to deliver catchy auto-tuned vocals on the hook. Young Thug does his thing in his verse and compliments the track as well.
"Slidin" might have my favorite hook on the whole project. The beat from Metro is trap music at it's best. Sharp hi-hats and heavy bass. The bass on "Slidin" is the heaviest bass on the track. I really like 21 Savages flows on this track too. The hook at first was a little off-putting with the deep tone savage inflects. However, the more I listen to it, the more I like it.
"Many Men" and "Snitches & Rats" are also highlights on the album. 21 Savage using the whistle ad-lib in "Many Men" is so satisfying to me. The 50 Cent sample at the end of the track was nice to hear considering the title of the track is "Many Men," and 21 raps about 50 Cent on the hook. Morgan Freeman delivers another dramatic narration before "Snitches & Rats."
"My Dawg" has some witty bars from 21 Savage. "Sweep the room, we pull up with brooms" is a great bar that fits 21's aesthetic really well. 21 also raps about being born in the UK and how he is disrespected because it was kept a secret until recently. It is interesting to hear him rap about being born in the UK because it's not something he talks about a lot.
My least favorite track is "RIP Luv." It's not a bad track, but it's not anything that pushes the album. The instrumental is pretty simple compared to most of Metro's production on the project. Although I really like the guitar solo in the outro. 21 Savage's bars and flows aren't anything special, and his monotone vocals don't add a lot.
As a whole, I think this is a very solid trap rap album. It is much more versatile than the original Savage Mode. 21 Savage shows the growth he's made as an artist. He has greatly developed his songwriting and hooks since 2016. Metro Boomin also provides some really nice instrumentals. The album starts out very strong, but tapers off a bit in quality towards the end. I'm giving this album a 7/10.
Best Tracks: Runnin, Glock In My Lap, Mr. Right Now, Rich N*gga Shit, Slidin, Many Men, Snitches & Rats, My Dawg, Steppin On N*ggas
Worst Tracks: RIP Luv
---
---