Welcome back to POP! Of Culture Weekly, where we discuss the highlights of all things entertainment for the week! This week, we cover Ryan Reynold's hilarious ad featuring a snippet of Taylor Swift re-recording of her previous albums and Elliot Page coming out as transgender! Check it out!
Reyolds and Swift Collab in a New Advertisement
In a recent advertisement directed and produced by Canadian actor Ryan Reynolds, singer-songwriter Taylor Swift shared the first snippet of her re-recording of Love Story. The hilarious advertisement for Match.com follows the story of Satan finding his match, 2020. In the ad, Satan and 2020 are seen meeting each other for the first time and falling in love with one another.
In a tweet, Swift stated that Reynolds reached out to her asking for a snippet of her re-recording to be used in the video.
Swift is currently in the process of re-recording some of her earlier music after a long and continuous battle and multiple failed attempts to negotiate with record executive Scooter Braun, who had owned the rights to much of her earlier music.
Elliot Page Comes Out as Transgender
On Tuesday, Dec. 1, Canadian actor who starred in the film Juno and is the current Netflix series The Umbrella Academy, Elliot Page came out as transgender. In a lengthy note, Page shared a post to share the news with their followers on Instagram.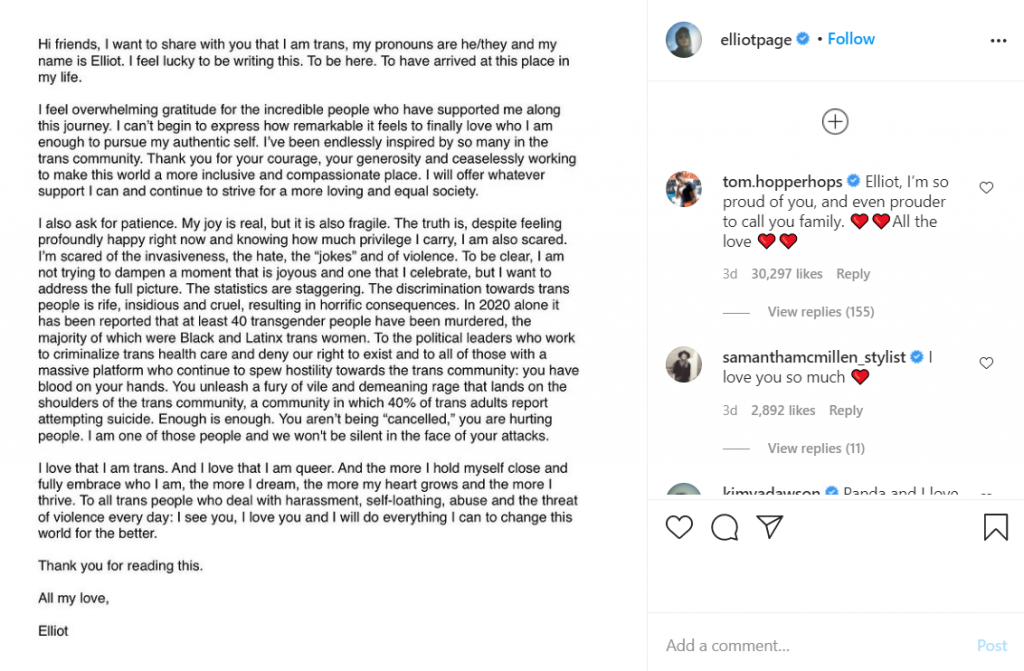 Many celebrities have come to congratulate Page on their announcement. Fellow cast member of The Umbrella Academy, Tom Hopper, who plays Luther Hargreeves on the show, commented on Page's post saying "Elliot, I'm so proud of you, and even prouder to call you family. All the love."
American singer-songwriter Miley Cyrus also chimed in saying "Elliot rules!"