28 Sep
From July 27-28, representatives of Wisconsin's nonprofit sector convened for the Wisconsin Nonprofit Summit, organized by the Helen Bader Institute for Nonprofit Management at UW-Milwaukee. The Summit featured national-level speakers and three learning tracks: Leadership, Financial Sustainability, and Marketing and Communication. UW-Whitewater faculty contributed two sessions:

• Creativity, Curiosity, and Innovation – Oh My! (Megan Matthews, Senior Lecturer)
• A Stakeholder Management Process for Ethical Fundraising (Ruth Hansen, Director, Institute for Nonprofit Management Studies, and Assistant Professor)

The Institute for Nonprofit Management Studies at UW-Whitewater sponsored five scholarships for students, alumni, staff, and community members involved in nonprofit services. Scholarship recipients had this to say about the experience:

Heather Ackerly, Annual Giving Manager, UW-W
The best thing about attending the WI Nonprofit Summit was meeting other nonprofit professionals. It was invigorating to meet other people dedicated to making the world better. It was also so helpful to learn from the presenters and other attendees new ideas and best practices.

Madison Adams, UWW student
The most beneficial thing for me at the WI Nonprofit conference was connecting with professionals in this field. They helped me understand what steps they took to become successful leaders in their organization and how I can do the same.

Bradley Jason Burt, UWW alumnus
The best thing about the WI Nonprofit was connecting with professionals and receiving opportunities to pitch ideas after each session. The event connected me with the right people to take my nonprofit into the next phase. I learned there are three phases of development: executive/forming, governance, and strategic. I now have some insight into where to turn next and will be taking my nonprofit into the governance phase seeking funding for launching my community engagement eNewsletter and helping my class reunion start up a philanthropy stepping in as our class secretary. The summit was a much-needed catalyst.

Sydney Johnson, Director of Case Management, Bethel House, UWW MSW student
The best part about the Wisconsin Nonprofit Summit was learning how to advocate as an organization about policy.

Hayley Pfaff, UWW student
The best thing about going to the WI Nonprofit Summit was having the opportunity to hear from nonprofit professionals who are currently working in positions I would like to be in a few years down the road. Hearing professionals share their perspectives through both formal and informal conversations has affirmed my desire to serve our communities in the future. Aside from learning about current hot topics across NPOs, I enjoyed hearing about some of the less talked about drivers of success in the nonprofit space that are becoming increasingly more relevant.

Wisconsin is home to more than 36,000 nonprofits employing nearly 12% of the state's workforce (WI Nonprofits in Brief, 2019).

Located within UW-W CoBE's Department of Management, the Institute for Nonprofit Management Studies promotes the study and practice of nonprofit management at the University of Wisconsin-Whitewater and within the larger community. The Institute focuses on relevant research, energized education, and community co-production to strengthen Wisconsin communities.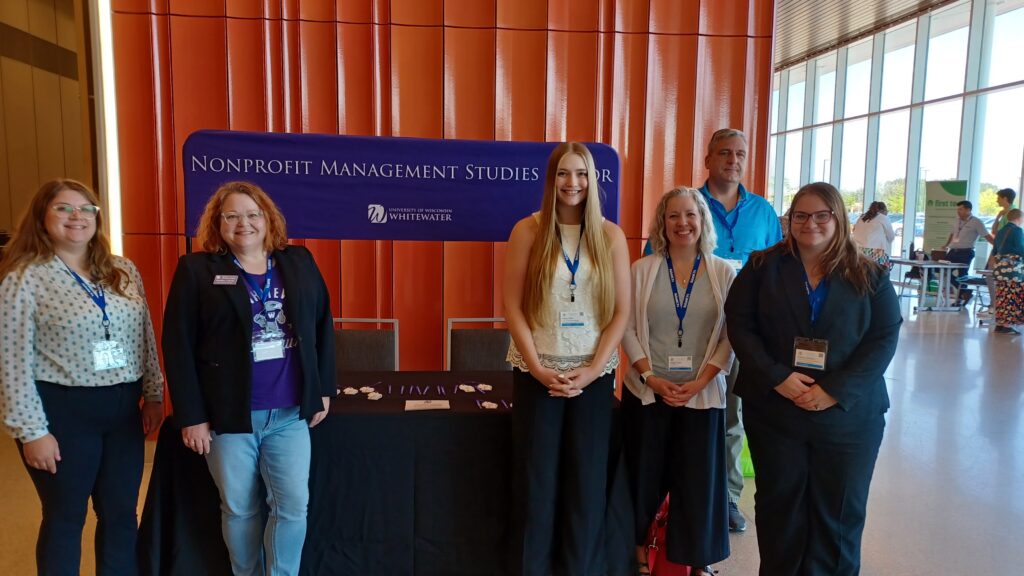 UWW scholarship recipients Madison Adams, Heather Ackerly, Hayley Pfaff, Bradley J. Burt, and Sydney Johnson, joined by Jessie Dugan of Whitewater (3rd from right).

There's no time like selfie time!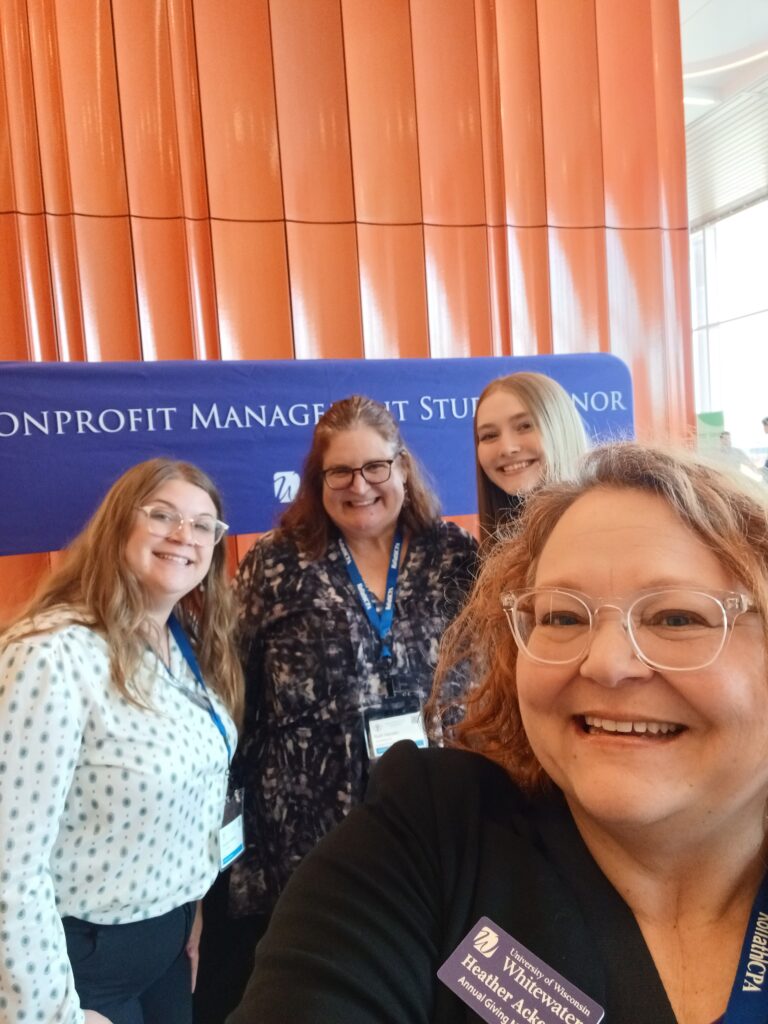 Heather Ackerly captures Maddy Adams, Ruth Hansen, and Hayley Pfaff