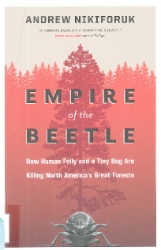 Empire of the Beetle:
How Human Folly and a Tiny Bug Are
Killing North America's Great Forests
by Andrew Nikiforuk
SB945 .B3 N55 2011
New Arrivals, 2nd floor
This semester began with a number of biology questions, ones that we don't normally field, with students inquiring for scientific articles on a host of creatures. While I am slightly unprepared for finding scholarly articles about beetles, I took a deep breath, showed the students Biological Abstracts, and assisted them with their assignment. Imagine my surprise to come across this week's featured title on those creepy little insects.
Nikiforuk, an environmental journalist with several major literary awards to his credit, goes toe to toe with the bark beetle, analyzing how the insects were able to take down thirty billion trees in the western half of North America. He highlights the accomplices of the tiny bugs, as they didn't act alone in this destruction. The journalist utilizes scientific experts on both sides of the murder case, the entomologists for the attackers and the botanists for the victims, as well as other interested individuals, to get to the bottom of the case. He also provides an extensive list of sources and further reading to explore the topic of insect domination.
[Not a very love-filled title, is it? =) ]