The Center for Global Education's Spring 2012 Global Café series continues on Wed., Feb. 15th, from 5-6pm with a focus on England, China, and Thailand (location: Andersen Library's big-screen TV area, near the Food for Thought café). In this series, international, study abroad, and travel study students talk about their home countries or international experiences.

Check it out! Andersen Library has resources on cross-cultural communication and travel.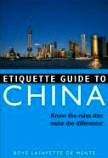 Search HALCat, the online catalog, for books or videos, such as Thailand: A quick guide to customs & etiquette (3rd-floor Main Collection, DS568 .J66 2003), Kiss, bow, or shake hands: Asia: How to do business in 12 Asian countries (2nd-floor Reference Collection, HF5389 .M667 2007), and Etiquette guide to China: Know the rules that make the difference (3rd-floor Main Collection, BJ2007.C56 D42 2008). Or, check out the information on these and other countries in Library resources such as the Global Road Warrior! The Ultimate Guide to the World.
Please ask a librarian for assistance with finding materials.