On this day in 1953, French oceanographer and marine conservationist Jacques-Yves Cousteau published his first book, The Silent World: A Story of Undersea Discovery and Adventure (co-authored by Frederic Dumas). Three years later the documentary film was released, and it won Best Documentary at the Academy Awards.
Alas, Andersen Library has neither the book nor the film. However, UWW students, staff, and faculty may borrow the book from other UW campus libraries by using the free Universal Borrowing service. Requested items arrive in 2-4 weekdays. There also is this video available from the Cousteau Society's YouTube channel that talks about the film and contains excerpts: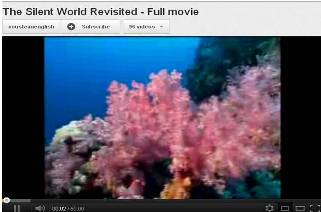 Andersen Library does have many other titles, both by Mr. Cousteau and about marine biology. Search HALCat to find titles such as The living sea (3rd-floor Main Collection, QH91 .C628) and The living ocean: Understanding and protecting marine biodiversity (3rd-floor Main Collection, QH91 .T49 1992). Search article databases to find articles including "State of the marine environment reports––a need to evaluate their role in marine environmental protection and conservation"
(Marine Pollution Bulletin, 2003, vol.46:no.10, pp.219-1223), "Ocean" (National Geographic, 1981, vol.160, pp.780-791; available in Andersen Library's 1st-floor Bound Periodicals Collection).
Please ask a librarian for assistance with finding materials.