With Valentine's Day not far away, the word on many a mind is love. We all know what can happen when two people meet in our world, but what about the world of…insects?
Have you ever stumbled across a pair of butterflies linked together and attempting to fly or a pair of walking sticks intertwined, and wondered what these curious displays are about?
Survey of the Color Forms of the Southern Twostriped Walkingstick (Phasmatodea: Areolatae: Pseudophasmatidae: Pseudophasmatinae: Anisomorphini), With Notes on Its Range, Habitats, and Behaviors by OV Conle, FH Hennemann, and AT Dossey is an interesting source for a glimpse into the walkingstick's elusive search for a mate hidden alone or in a cluster of walkingsticks amid sandy grounds, tree trunks, and palmetto fronds.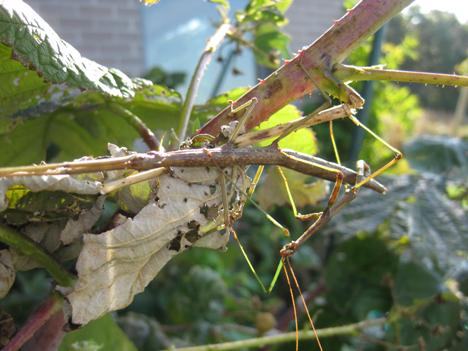 For a full-text view of this and other fascinating articles about the "love lives" of the insect world, search BioOne
.
By Christine Fary