On Feb. 6th in 1952, King George VI of Great Britain passed away. If you saw the 2010 movie The King's Speech, you've learned something about him. His daughter was crowned Queen Elizabeth II on June 2nd, and she's been the queen ever since (yup, that's over 50 years on the throne!). The notion of royalty or monarchy may seen strange in a country where it doesn't exist. But Britain is not alone in having a monarch, although the roles of the monarch and the royal family have changed over time.
If you'd like to learn more, Andersen Library has resources.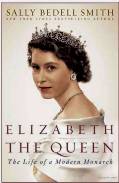 Search HALCat (Harold Andersen Library's catalog) to find titles such as Elizabeth the Queen: The life of a modern monarch (2nd-floor Browsing Books, DA590 .S55 2012), King George VI, his life and reign (3rd-floor Main Collection, DA584 .W45 1965), The monarchy and the British nation, 1780 to the present (3rd-floor Main Collection, JN331 .M62 2007), The kings & queens of Britain (online from Oxford University Press), and Four Gothic kings: The turbulent history of medieval England and the Plantagenet kings (1216-1377), Henry III, Edward I, Edward II, Edward III, seen through the eyes of their contemporaries (3rd-floor OVERSIZE, DA225 .F68 1987).
If you're interested in a different country (contemporary or historic), try keyword searching for the name of the country and either the phrase "kings and rulers" or monarchy in HALCat. This would find titles such as Ivan the Terrible: First tsar of Russia, The road from Versailles: Louis XVI, Marie Antoinette, and the fall of the French monarchy, Frederick the Great: The magnificent enigma [Prussia], and Middle East monarchies: The challenge of modernity. There also are reference books that provide overviews, including Monarchs, rulers, dynasties, and kingdoms of the world (2nd-floor Reference Collection, D107 .T36 1983)–it provides a survey of the history of countries ruled by monarchs and traces the royal families' genealogy.
Search article databases such as Historical Abstracts to find articles including "Some thoughts on the queen and Commonwealth" (Round Table, 1998, vol.347:no.1).
Please ask a librarian for assistance with finding materials.