November 13 is the anniversary of the 1982 dedication of the Vietnam Veterans Memorial in Washington, D.C. It's known to stir powerful emotions in its visitors.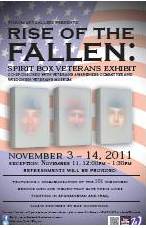 Another powerful commemoration can be seen in the UC Fiskum Gallery through November 14th, created by UWW Art faculty Andre Ferella: "Rise of the Fallen: Spirit Box Veterans Exhibit." I urge you to see it. There will be a reception today (Friday, Nov. 11) from noon-1:30 p.m. This exhibit commemorates "106 Wisconsin service men and women that gave their lives fighting in Afghanistan and Iraq." You can learn more about this commemoration and see images from it on its web site, The Rise of the Fallen.
Andersen Library has some materials on war memorials. A search of HALCAT would find titles such as Carried to the wall: American memory and the Vietnam Veterans Memorial (3rd-floor Main Collection, DS559.83.W18 H33 1998) and The World War II Memorial: a grateful nation remembers (3rd-floor Main Collection, D836.W37 W68 2004).
Please ask a librarian for assistance with finding materials.