The History Channel dares you to try its "Ultimate History Quiz."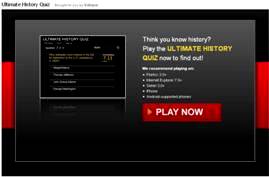 Ten questions to every game. Twenty seconds to answer each question. The faster you answer, the higher your score. But no pressure. Really.
Need to brush up? Andersen Library has LOTS of books and articles on history, politics, and current issues, including many newspapers and news magazines. Please ask a librarian for assistance with finding them!