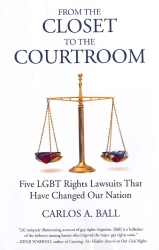 From the Closet to the Courtroom:
Five LGBT Rights Lawsuits That
Have Changed Our Nation
by Carlos Ball
KF4754.5 .A53 B35 2010
New Book Island, 2nd floor
Given that last week's landmark decision made in California, I thought that this week's featured title would be a very timely addition to the discussion.
Ball, law professor at Rutgers University, looks at the struggle faced by LGBT individuals, fighting for equality in all aspects of life. He closely examines five cases, ranging from harassment and discrimination to family and marriage, and their impact on the LGBT community and society as large. Instead of a regurgitation of the court decisions, the author explores the back stories of the cases, providing a human connection to the parties named in the lawsuits. Furthermore, the narratives include the brave people that defended these cases as well.
Interestingly enough, the chapter on harassment contains the case of Nabozny v Podlesny, which takes place right here in Wisconsin.