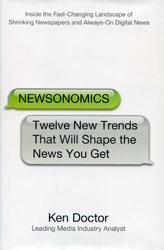 Newsonomics:
Twelve New Trends That Will Shape the News You Get
by Ken Doctor
PN4784 .062 D63 2010
New Book Island, 2nd floor
As I was laying in bed catching up on the news from the Wisconsin State Journal app on my iPhone over the weekend, I came across a headline about a cancer researcher that suddenly left the university. I went to read the full story, but received a message stating that this piece was part of a new initiative in which print subscribers get the first read. Interesting, I thought. As I searched for a new book for New Stuff Tuesday, this title jumped right out at me.
Doctor, leading media industry analyst, takes a forward look at what the story of the newspaper will look like down the road. While the ink and paper model may decrease, the power of the medium will not cease in the digital realm. Drawing from his twenty-plus years at Knight Ridder, the author surveys the electronic news landscape. While the traditional news outlets like the New York Times (the so-called "Digital Dozen") will prevail as news leaders, more personalized news will come from the little guys – your social networks. [Just think – how did you find out that Michael Jackson died? Facebook? Twitter?] This would be a must-read for up-and-coming journalists and marketers.