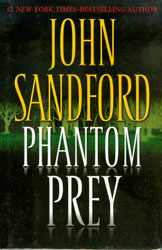 Phantom Prey
by John Sandford
MCN San
McNaughton Collection, 2nd floor
This just might be my last review for "summer reading," since classes start very soon (I refuse to think in more specific numbers). I'm back to series reading again, but this time it's a series by a male author. I've been reading John Sandford's "Prey" series for years, and have been anxiously waiting to read this latest one. When I finally got the chance, I found it to be…not bad.
Lucas Davenport is the star of the series, which is set in Minneapolis. He started out way back in the beginning as dark and dangerous—he followed his own path, solved crimes, had lots of love affairs. Over the years he's matured and changed and is now a family man. Frankly, I preferred him the way he used to be, but oh, well.
This latest book has Davenport looking for a killer (or killers, we don't know) who is viciously stabbing people involved in the Minneapolis Goth community. All seem connected in some way to the disappearance of Frances Austin, the crime Davenport is originally recruited to solve.
The main reason I found this book only "not bad" is because the author reveals the killer/killers (to the reader, not the police) about halfway through the book, and for some reason that made the rest of the book anti-climactic.
Like the J. D. Robb "Death" series I blogged about a few weeks ago (see our blog archives), I find the books in the "Prey" series hard to keep straight due to very similar titles (Invisible Prey, Broken Prey, all the way back to the first book, Rules of Prey). Most of them can be read out of order, but there are a few titles with recurring criminals. The complete list of books and their synopses can be found on the author's web site. The University Library has five of the series titles in our Main Collection and two more—including this one—in the McNaughton Collection. All seven can be found using the library's online catalog, or by asking a reference librarian.
Give this series a try. Lots of action, great characters, all set in locales you may have visited (or even lived in) yourself. Enjoy the rest of your summer!