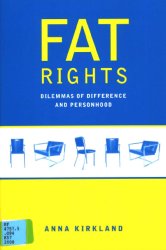 Fat Rights:
Dilemmas of Difference and Personhood
by Anna Kirkland
KF4757.5 .O94 K57 2008
New Book Island, 2nd floor
Civil rights and the struggle for equality have come a long way over the last century. This week's NST book features one group commonly left out of the discussion for equal rights, but that might be changing.
Kirkland, assistant professor at the University of Michigan, tackles the topic in a bold way, starting with the title (in the preface, she addresses her use of the term 'fat' as opposed to 'overweight' or 'obese' because of their medical and pejorative nature). The book examines whether or not – to use the author's words – fatness should be added to the list of protected classes like race and gender. Because of this, the book not only looks at the current issue, but also the general case of antidiscrimination laws and movements over the years. The author explores how our society and legal system decide what differences constitute added protection under the law. It's an eye-opening study which incorporates real-life examples accompanying the text.