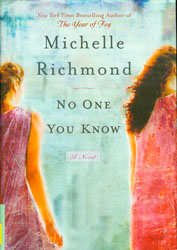 No One You Know
by Michelle Richmond
MCN Ric
McNaughton Collection, 2nd floor
First, let me say, I liked this book. But, I thought it moved a little slow. And the ending was, well, let's say it's not what I expected.
Unlike my last three reviews, this title is not from a series. I thought you might like a break from series fiction, since a colleague told me that thanks to me, she now has a very long list of books to read! Michelle Richmond's No One You Know is a murder mystery, a family drama, and a tale of growing up, all rolled into one. And it is a standalone title.
Ellie Enderlin's older sister, Lila, a math genius in the doctoral program at Stanford University, was murdered when Ellie was in college. A best-selling true crime book pointed the finger at one man. There was no real proof, but everyone thought he did it. Ellie's family struggled to get through the tragedy, and the aftershocks of the murder and the bestseller effect the way Ellie ultimately lives her life.
Ellie finally decides to find out what really happened, and along the way she comes to terms with who she is and why she became the person she did. As an interesting twist, because of who Lila was, all throughout the book are stories of mathematical personas, theorems, and unsolvable problems. Not being a math genius myself, I can't tell you how much of that is fiction and how much is truth. But I like to think I am a little smarter after reading the book.
Take a look at No One You Know. You might learn something (sorry about that, I know it's summer), but it's also a good story. Available in the University Library's McNaughton Collection under the call number RIC.