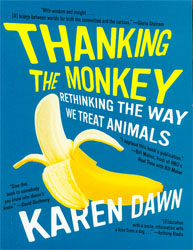 Thanking the Monkey:
Rethinking the Way We Treat Animals
HV4708 .D39 2008
New Book Island, 2nd floor
The title of this week's featured stuff sort of jumped out at me while I was browsing the shelves to find the topic for NST. It's not everyday that you think about thanking the monkey.
But that's just what animal rights activist Dawn thinks we should do. Jam-packed with information about every aspect of the animal's impact on society, the book exposes the reader to all forms of animal cruelty without the sermon-like tone. In addition its light-hearted delivery of serious matters, comics from Bizarro and others make you laugh and think at the same time. As if the information weren't enough, it also features well-known individuals showing their support for animal rights. In the end, the author allows you to draw your own conclusions, although she does make a pretty convincing case for the vegans and the vegetarians.
And for the Wisconsinites, she does tackle the everyone's favorite topic – California and their 'happy cows.' That's right – she says they're not happy.