"Identity Theft: Protect and Prevent" will be presented online on Thurs., Jan. 28, at 3 p.m. by Jeff Kersten from the Wisconsin Bureau of Consumer Protection via Zoom, sponsored by Whitewater's public library. Registration in advance is required in order to receive the program link shortly before the program begins (http://www.whitewaterlibrary.org/index.asp – scroll to the program listing at the bottom of the page).
You can get additional information from the Bureau's website, such as its ID/Theft/Privacy Protection Fact Sheets. The Federal Trade Commission's www.identitytheft.gov site also provides information, including warning signs and recovery plan options. It's already tax season, and since one thing identity thieves can do with your information is file fraudulent returns, the Internal Revenue Service (IRS) has a page called "Identity Theft Central" that provides information for individuals, tax preparers, and businesses.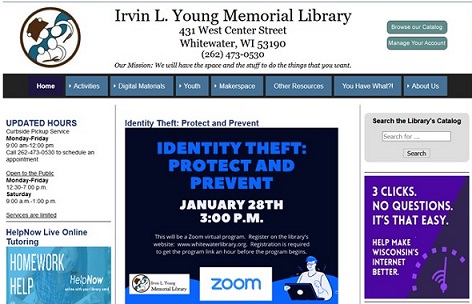 For assistance with finding additional resources, such as articles or books, please ask a librarian (visit or contact staff at the Reference Desk, email, chat, or make an appointment).