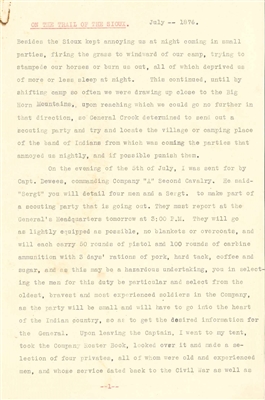 This past summer the Archives & Area Research Center received a package in the mail along with a letter addressed "To Whom It May Concern." UW-Whitewater has a collection of General George Custer materials. The letter writer thought we would be an appropriate place for a manuscript they had found while remodeling their home in Sacramento, CA.
The document is a typed transcript of a diary written by Sergeant G.P. Harrington in 1876 that describes his experience serving with the 2nd Cavalry during the time of the Battle of Little Bighorn.
An accompanying letter from A.W. Sibley, Colonel of the Cavalry, serves as a reference for Harrington's credibility and briefly outlines the contents of the manuscript:
"He was with me as Acting 1st Serg. of a scouting party of thirty picked men which I commanded, on the 6th, 7th, 8th and 9th of July, 1876. This detachment sent from camp on Goose Creek, Montana, by order of General Crook, along the base of the Big Horn Mountains was to obtain information if possible as to the whereabouts of the renegade Sioux and Cheyenne Indians, who were constantly annoying us at night, threatening our communications with Fort Fetterman, and trying to burn us out of camp and stampede our stock. On this scout we ran into what proved later to be the entire hostil force of Indians which was fresh from the slaughter of Custer and his command."
Come to the Archives to view the manuscript and learn more about General George Custer.
On the Trail of the Sioux manuscript
by G.P. Harrington
Archives & Area Research Center, 1st floor