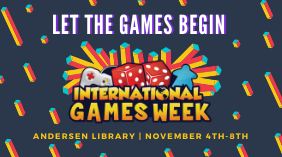 If you stopped in to Andersen Library anytime this past week, you might have been wondering why there was a bunch of life-sized games in the main entrance of the library. No, no – you didn't fall down a rabbit hole and shrink down in size like Alice did before she entered Wonderland.
This entire last week, Andersen Library celebrated International Games Week (IGW)!
IGW is an initiative facilitated by volunteers all around the world to reconnect communities through their libraries centered around the recreational and educational value of a many types of games. Here at UW-W, IGW at Andersen Library provided students multiple opportunities throughout the week to play games and learn creatively. On Tuesday, November 5th from 4:45 to 6:00 p.m., students participated in a virtual reality event and tested out the Oculus Go headset. Andersen also partnered with UW-W's Video Game Club and Warhawk Alley to host a Mario Kart tournament on Thursday, November 7th which featured the Nintendo Switch and the Mario Kart 8-Delux playing game. Students were able to play all week long through a number of life-sized games set up in the library including chess, scrabble, checkers, connect-four, carpet bowling, tic-tac-toe, and more.
Keep scrolling to see your peers getting their game on this week at Andersen Library's 2019 IGW!